While we already have PLENTY of rankings of the top teams in the Valley from the Monitor, RGV Sports, (S)TD Dave, etc. the Bench Wire believes that EVERYONE needs their chance in the spotlight…even our comically terrible teams.
We're halfway home from crowning the worst RGV football team for 2016 with plenty of candidates still DIGGIN' DEEP to get there.
Thanks to buzz kill Edinburg CISD, Robert Guerra won't have the chance to run up his tally against Edinburg High, so it brings me absolutely no pleasure to suspend the Edinburg Bobcats vs Robert Guerra Scoreboard indefinitely =(
Now that there is a more manageable amount of winless teams, we're going to rank-in all of them until we settle into a bottom 5 again in the next few weeks or so.
These are the RGV's worst teams of the week:
#6 Edinburg North (0-4) L 42-23 Edinburg Vela – The Cougars flew so under the radar that I just noticed that they have yet to win a single game this season. I legitimately forgot that this school, and their god awful logo, even existed. I mean, what IS that thing? There is literally zero form or symmetry in that Rorschach test. I look at it and instantly it makes wanna BURN something.
#5 Brownsville Pace (0-4) L 42-14 Brownsville Vets – Vets is only a few years old and already they want to do everything they can to not sink themselves into the pit that Brownsville football has worked hard to dig itself in and Pace was just another victim. Unfortunately, they have been passed by ANOTHER Brownsville school that's making it's debut this week (see below), and so goes the fate of the Vikings. They are destined to never stand out, even when they are supposed to be the worst at whatever it is that they do.
#4 Brownsville Porter (0-4) L 39-10 Brownsville Lopez – The Cowboys debut on our list ahead of sister-school Pace due to the unsightly beatdown they received by Lopez. Porter is the football program that even Brownsville ISD is embarrassed of. Sometimes I wonder if that fluke 2003 season actually happened. There's NO WAY a school like Porter would have ever have had a QB rack up 3185 yards, 38 TDs, and have one bad-ass fuckin' name like "Billy The Kid Garza." I'm officially commissioning us here at The Bench Wire to create a 30 for 30 on the 2003 Brownsville Porter Cowboys. What if I told you…that these babies grew up to be Cowboys. chills.
#3 Progreso Red Ants (0-3) Bye Not much to cover when you don't play anyone but someone hilariously included this box score for Progreso on MaxPreps to where now the website has the Red Ants record (incorrectly) at 1-3.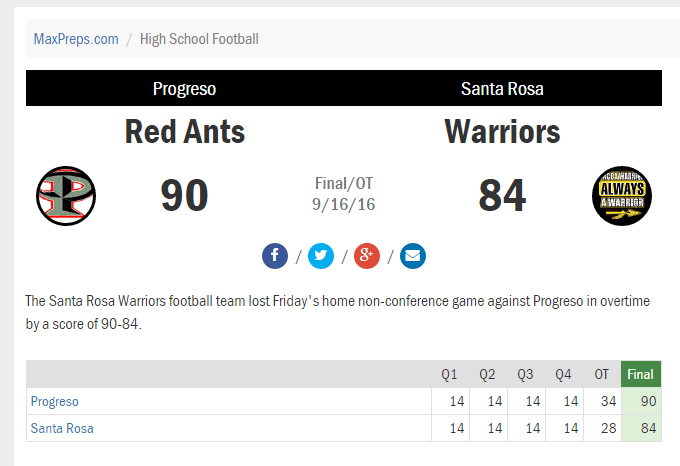 #2 Marine Military Academy Leathernecks (0-5) L 52-8 Kaufner – The first team in the RGV to go 0-5 and boy do these guys just keep MARCHING ON, week-after-week without a Bye week in sight. They currently have the worst defense in the RGV giving up 37.8 ppg and I wouldn't be surprised if Pharr Oratory snuck up on them and kept them winless in the season finale.
#1 PSJA Memorial Wolverines (0-4) L 44-7 PSJA North – By every statistical measure, PSJA Memorial is the absolute worst team in the RGV right now. They have the worst offense (3.5 ppg), the 2nd worse defense (37.75 ppg allowed), and the worst point differential (-34.25 pg). Next up they have an enraged Economedes who inexplicably lost to Edinburg High last week. Even at a 50 point spread, I'd take Economedes to cover and THEN some.
Dropped Out: #1 Raymondville BearKATS (1-4) W 43-14 Kingsville King: Holy shit. Those KRAZY KATZZZZZZZZ sure smoked the hell out of King.