While we already have PLENTY of rankings of the top teams in the Valley from the Monitor, RGV Sports, (S)TD Dave, etc. the Bench Wire believes that EVERYONE needs their chance in the spotlight…even our comically terrible teams.
The only good bit of news the city of Donna has this week is that they are finally off this list.
Good luck, Donna.
These are the RGV's worst 5 teams of the week:
#5 Port Isabel (1-4) L 48-27 Rio Hondo: My my my, how the mighty have fallen HARD. When we began making these lists a few years ago, I couldn't have ever imagined Port Isabel landing on here and you bet your ass that me and my shit-eating grin are going to milk this for all it's worth. The once stout "seawall defense" is now officially dead as the Tarpons find themselves tied for the 2nd worse defense in the Valley (40.2 ppg allowed) seven weeks into the season. I relish in the fact that PI actually thought that getting rid of Ol' Coach Monty would have been a good thing for their team. Now, the program has all but nosedived itself straight into the toilet where it rightfully belongs. This is the program that South Padre Island deserves; a flopping mess that its awful whiny residents have to shell out needlessly for. I fucking love it.
#4 Harlingen South (1-5) L 21-17 Brownsville Hanna: Harlingen South has technically won 1 game, but they may as well be considered winless as their one win came against perennial doormat McAllen High. Did you know that the NFL has special balls marked with "K" to only be used for kicking and punting? McAllen High is that football; forever punted for everyone's amusement. That win doesn't fucking count. The Hawks have now lost 5 straight since then and are just about done giving a fuck about winning football games. Harlingen South's mascot is the perfect metaphor for their futility; an unintimidating hawk with either down syndrome or a heroin overdose. I mean, just look at this stupid fucking thing: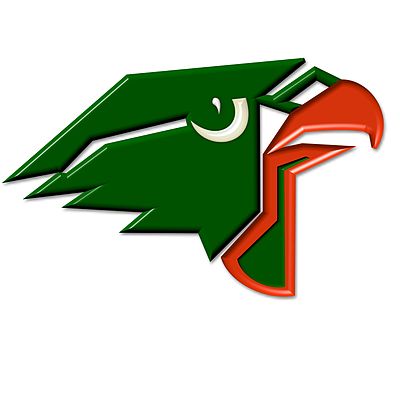 I wouldn't blame those kids for not wanting to suit up when you gotta wear a picture of a hawk in mid-orgasm on the side of your helmet.
#3 Roma Gladiators (0-7) L 24-14 Valley View: What a fucking nightmare. Watching this team sloth through losses has got to be agonizing for these fans that had to wait SEVEN WEEKS until they finally arrived at a Bye. They finally get a chance to, for what is best, NOT play football this week but not before having been beaten down by a school that nobody seems to understand why they exist. What exactly IS the View of the Valley? Is it the 800 million Logicorp Trucks on south Jackson or the dilapidated houses around Las Milpas? WHO KNOWS!?
#2 PSJA Southwest Javelinas (0-6) L 53-0 Edinburg Vela: Christ. With this bloodbath, PSJA Southwest has sole possession of the absolute worst point differential (-32.67 ppg) and the most inept offense (6.16 ppg) by a mile. I am at a loss for adjectives as they are at a loss for any semblance of football talent. The Javelinas are set to turn in one of the worst seasons in High school football history, which would be the only way I would place them firmly at #1 for not of that stupidly long losing streak the Porter Cowboys are on.
#1 Brownsville Porter Cowboys (0-6) L 38-21 Donna North: They sure as shit made #18 REALLY count by dropping this year's shit bowl against Donna North. They have finally ascended (descended?) into our #1 spot for the first time this year. Porter's need for terrible football play has been unmatched by every other shit team we've covered so far this year and, for this website's sake, I hope this losing streak goes on in perpetuity. I want them to lose 153 straight. I want Porter to sell the movie rights to David Fincher so we can see the GRIT of their losses glorified on the big screen. LET'S GET IT DONE HOLLYWOOD.
Dropped Out: Donna North, PSJA North