Reports are coming in about Blake Griffin getting into a scuffle with a Clippers equipment staffer last night outside of a Toronto restaurant. The staffer was treated at a local hospital and Griffin was flown back to LA after reportedly breaking his right hand.
The incident, reportedly, began inside the restaurant with Griffin, at some point, striking the Clippers staffer. The staffer exited the restaurant to be followed by Griffin moments later and struck the staffer again. Nothing's been reported about whether any other team member was involved, however it has been reported that Griffin, DeAndre Jordan and this particular staffer are close and that Griffin and the staffer have vacationed together before.
Griffin has already been out for the passed 15 games with partially torn quads and is expected to miss even more time thanks to this. When asked how the Clippers expect to adjust, coach Doc Rivers played it pretty bluntly, saying that they've already adjusted without having Griffin in the line-up. Rivers and the Clippers have an 11-3 record in his absence.
The real meat of this story, though, remains missing. Just what on earth could they have been fighting about? Griffin seems like a pretty chill, level headed guy who doesn't have a history of any kind. Whatever it was, it had to have been something so bizarrely infuriating for Griffin to just completely go off on his friend's face TWICE.
We'll keep this post fresh for any updates that come in.
*UPDATE* 3:05 PM
The staffer's name is Matias Testi.
Instagram: matit99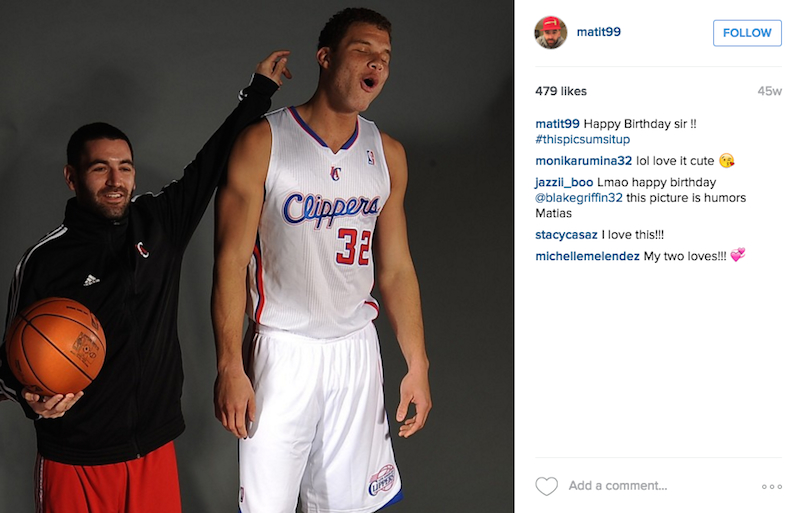 Twitter: Matit99
Happy bday to my boy @matit99 and put some clothes on please. http://t.co/Ic35ON2THm

— Blake Griffin (@blakegriffin32) June 10, 2013