The now infamous chainsaw-wielding Valley man, Daniel Pena, now has a GoFundMe page thanks to either himself or some other moron in an effort to pay for Pena's legal fees. The GoFundMe page entitled "Bail The Down Town Chainsaw Riot preventer!"
Early Saturday morning, a Twitter account who is either Daniel Pena himself or someone posing as Pena posted the following: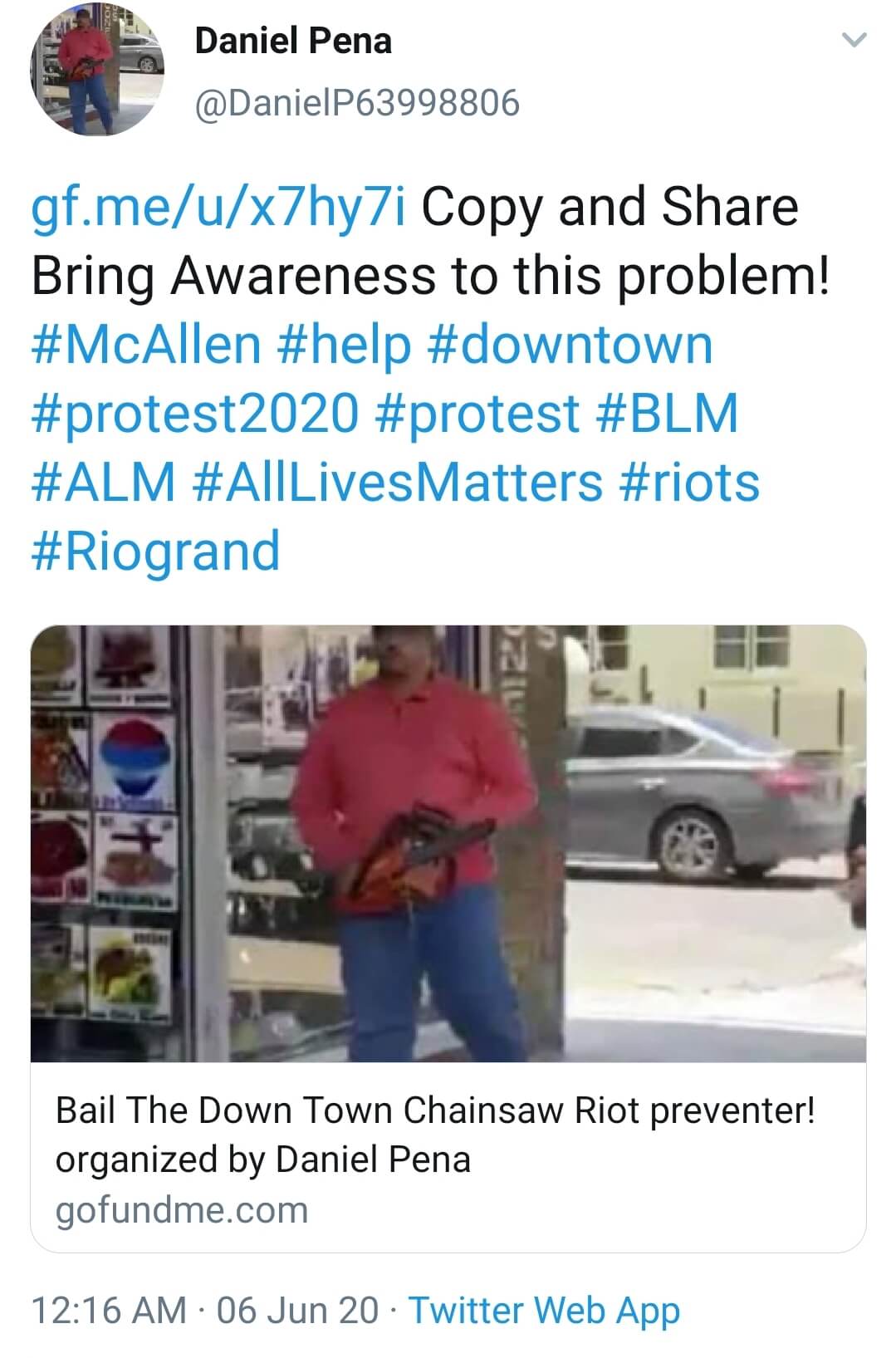 Upon clicking on the GoFundMe page, you'll find a narrative speaking about the events from his point of view.
From the GoFundMe page:
Now days are difficult times for everybody during this pandemic. On top of that the Killing of George Floyd bring us terrible moments to us all. During the times that our rights as individuals are treat by this situation we need stand together as whites, blacks, Latinos, Natives, etc.

Today  was a regular work day for me in McAllen, Texas and mean while a was driving I saw a group of protesters for "Black Lives Matters" in downtown McAllen. 
To be honest I'm tired about what is  going on in the USA and I did step out of my truck and peacefully I told some of the protester to take it easy and go home.  I think the Rio Grand Valley Area don't need this kind of demonstration since others are affected  by the protesters and most likely some of them are not even there for the real cause. Some of them are just there to vandalized and to affect the small local business. On top of that I do have lots of respect for the Local Police and morally speaking I feel I need to step in and defend them, But in doing this I did argue with others and lost the control and i know that was a mistake.
since i felt threatened my option was the chainsaw to feel safe and make my point. but I know One hundred percent that i would never use against the protesters or to harm them.

While your reading this I've been charged for what i did, and I am in need of a good and honest lawyer who can defend me. Since it is a difficult time economically speaking for everybody i will need to be prepared to cover all the legal fees of my case.

By the end everything that happens today is because i truly believe in justice for us all and blue lives matter!  

Friday afternoon, videos of Pena's altercation with BLM protestors in downtown McAllen began to circulate on social media.

The videos show Pena first arguing with protestors, saying "Get the fuck home. That bullshit with some fucking nigger and a bad cop do not belong here."

The video then shows Pena confronting a male protestor and after a few moments where Pena wrestled away a protestors sign, he makes his way to the bed of his truck to reveal a chainsaw.

Pena subsequently powered on the chainsaw and began revving it in an effort to force the protestors to disperse.

Pena could then be heard saying "Don't let those fucking niggers fool you. Don't let the fucking trash ANTIFA bullshit people fool you."



To conservatives, Pena's actions were applauded as they saw it as an attempt to quell any potential riot that has plagued most of the protests across the country.

The problem is that nobody was rioting. Nobody was looting. This is simply a story about a guy who lost his shit, tried to play the hero that nobody asked for, threatened others  with a chainsaw, and wound up getting arrested. He didn't stop anything from happening because nothing was going to happen.

These are just my $.02, which, unfortunately, will not be going to his fund.