On Saturday, Dave Hendricks of KGBT Channel 4 covered a story about Homero Guzman, an elderly man who was robbed at gunpoint outside a South McAllen Church's Chicken and how his granddaughter Cassie Luevano, who happens to be a Republican Party staffer, claimed the suspect of being an illegal alien, using twitter to spread her grandfather's incident, pining for stringent border security to a point where even the Governor of Texas replied to her directly.
Late last night we found out that Luevano and the tens of thousands of people that believed her story were wrong.
Luevano's story gained traction all weekend when she tweeted the following posts Friday evening: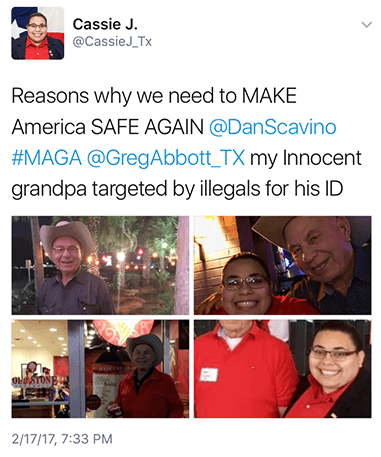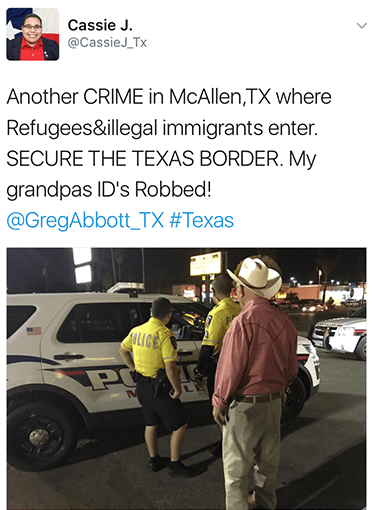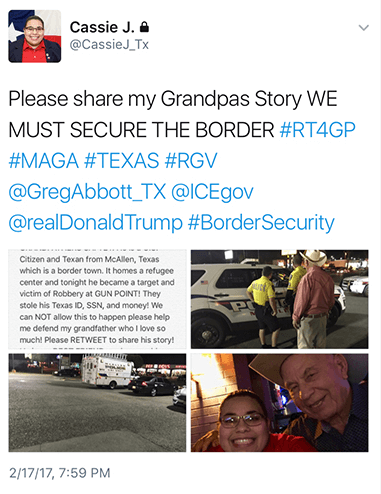 The posts subsequently led to Gov. Abbott replying to Luevano himself.
Let him know that Texas is coming to his rescue. We'll work to protect him & put an end to this. #txlege https://t.co/Xmv6nmSAjo

— Greg Abbott (@GregAbbott_TX) February 18, 2017
Luevano's claim that the crime was somehow related to border security was met with skepticism, prominently by Texas Rep. Terry Canales (D-Edinburg) who said "..a robbery at Church's Chicken in McAllen isn't a border security problem. I would go out on a limb and say somebody was held up at gunpoint in Houston last night. Is he coming to Houston's rescue?"
Late Tuesday night, Ricardo Avalos Zavala of Pharr was arrested by McAllen PD in connection with the above mentioned robbery and was booked early this morning.
Zavala is an American citizen born in Harlingen on May 22, 1979. He's an American citizen with a rap sheet that includes aggravated assault, burglary, and theft to his priors. He is currently being charged with 1st. degree felony aggravated robbery, 2nd degree possession of a firearm by a felon, state-jail felony possession of a controlled substance, and possession of marijuana. Truthfully, we hope Zavala is put away for as long as the state will allow.
Beyond the sensationalism that was spread about this incident, Zavala's crime was just another awful, albeit routine, aggravated robbery committed by one US citizen toward another.
Obviously, that's not the story here.
The story is about an unsavory attempt by someone who, before the facts were even discovered, seized an opportunity to promote her employer's political agenda ahead of the privacy and dignity of her grandfather by propagating fear and ignorance to create a boogie man that did not exist. The crime had nothing to do with border security and nothing to do with criminal illegal aliens. Luevera, simply, fit the narrative to appease her own political views and managed to dupe tens of thousands of people into believing it.
Are there illegal aliens who commit violent crimes? Yes. Of course there are. That is exactly what Trump's orders to ICE are supposed to reflect; to ultimately remove criminal illegal aliens (although currently, only 75% of ICE arrests are immigrants who have committed crimes vs Obama's 90%)
Do illegal aliens commit more violent or identity theft crimes proportionally than American citizens? No. Not by a long shot.
Since last Saturday, Luevano's twitter account has been set to "private" and on the Texas GOP website, she's the only staffer who does not have a direct email address listed.
Nonetheless, we have attempted to tweet her in hopes of a response:
@CassieJ_Tx Late last night, McAllen PD arrested Ricardo Zavala, charged with your grandfather's robbery. He's a US Citizen. Any comments?

— The Bench Wire (@thebenchwire) February 22, 2017
Much like this administration, I doubt we will receive an answer after she has been confronted by the facts because she's already gotten what she wanted. More people will most likely now believe that her grandfather was robbed by a criminal illegal alien than won't.
We'll keep you posted if we receive a response from Luevano.