How The Warriors Won Thanks To Some 28 Year-Old Staffer
Back to reality..sort of. If anything, game 4 was good for killing ESPN's LeBron hard-on just a little. There are a lot of reasons you can point to as to why the Warriors finally woke the hell up. Was it because our goofy-ass NBA Finals hero didn't go through with his pre-game ritual? Probably not. Was it because Steve Kerr is a liar-liar-pants-on-fire? Maybe. Or was it because some Golden State staffer tipped off Coach Kerr? Well, according to Kerr, actually..yeah, probably.
There's only a finite amount of things you're doing at 3 in the God damn morning when you're a 28 year-old guy. You're either working the overnight shift at a gas station somewhere (ughh thanks, Obama), you're watching porn alone (ughh thanks, Obama), or you're asleep. Nick U'Ren, possible cousin to Stephan R'Kell, spent his Wednesday night watching film of the San Antonio Spurs win over LeBron and the Heat in the 2014 NBA Finals. So, who the hell is Nick U'Ren? According to his LinkedIn account, U'ren is Kerr's assistant. He isn't a coach, he isn't a trainer. He's just a catch-all do-everything kinda guy for Kerr; think of him like a grown up intern.
So this guy was watching film on what the Spurs did last year to slow LeBron. If we remember from last year, Gregg Popovich went small against Miami and started Boris Diaw, replacing Splitter. The Spurs rip off three straight and win their 5th championship. U'Ren catches on, sends a text to Kerr or Luke Walton (depending on who you ask) and the decision is made to start Andre Iguodala after breakfast on Thursday, and by God did it pay off.
Iguodala held LeBron to his lowest output in these Finals, tied with Curry in points (we'll get to him later), and forced the Warriors to go back to what they're best at doing. Spreading the floor, and setting up Klay or Curry for the 3. It felt good seeing Iguodala actually play a meaningful role again. It might surprise you, but he's actually only a year older than LeBron. For a while, we all thought he was the legitimate heir apparent for the AI throne in Philly. This guy was THE MAN for the 76ers and now he's slowly turning into an NBA nomad. Last night was a reminder to everyone that Iguodala is still around, and yeah, he can still ball. We should expect him to start game 5, which means Center and human Vegemite sandwich Andrew Bogut (eeyyy aussie aussie aussie!) probably won't be playing any meaningful part in these NBA Finals.
With AI in the starting rotation, 4 out of 5 of Golden State's starters ended their night scoring in double digits (Klay had 9 points). Even Draymond Green decided to play last night!! (WOW!) But this really shouldn't come as much of a surprise. The Warriors are a deeper, more prolific scoring team than what we had seen in the first three games. When the Warriors want to show up and play, they will. And when Steph Curry turns it on, it's basically over.
I'm sure Curry must have been sick of all this Dellavedova talk, probably just about as much as we have been sick of watching how HE has been playing. Curry IS the MVP for God's sake and has no business struggling against a bearded hipster post-grad barista-turned-pro baller. Finally, his soul returned to his lifeless vessel and walked Dellavedova to school. This is the Curry we came to watch, and it looks like he might finally be finding his form in these Finals. I'm sure Curry loved every minute of swatting out any chance of us spending ANY more time talking about Dellavedova any more than we need to. "Stop it," said Curry's game, "Just stop it."
Let's give credit for Dellavedova, however, for being the duct tape quick fix of what to do with Curry. The thing about duct tape is that it's not a permanent solution. Eventually it will begin to unravel, much like how the Cavs' offensive game plan began to unravel pretty quickly last night the minute James left the floor. Van Gundy had it right when he asked "Who's their 2nd option? I mean, really? Where are they gonna find offense?" My God are the Cavs shit-awful without LeBron. I mean, did you SEE Imam Shumpert last night? The Cavaliers offense was so out of wack, that the leading scorer for the game was Timofey Mozgov with 28 points. An offense that results in Mozgov getting enough touches to get anywhere NEAR 28 points is a terrible idea. Just shut it down…no no.. no.
And when weird terrible shit starts happening like this: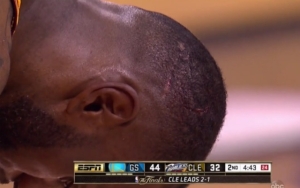 ..then it's time to call it a game and move on.
The Cavs are tired, and playing only 7 guys finally caught up with them last night. With only 1 day of rest, Golden State's younger, deeper team took that advantage and ran with it.
So after 2 miraculous games, the Cavs are back to being in trouble, and the Warriors once again look like the unstoppable force we expected them to be.