aFor years, RGVFutbol.com had bested 956Sports and RGVSports for local high school soccer coverage, scores, and stats. Today, however, the site seems to have gone under with no real explanation as to why.
Their homepage is currently displaying a banner simply giving thanks to their supports for their 13-year run, complete with a cheesy hint at a possible return at the bottom.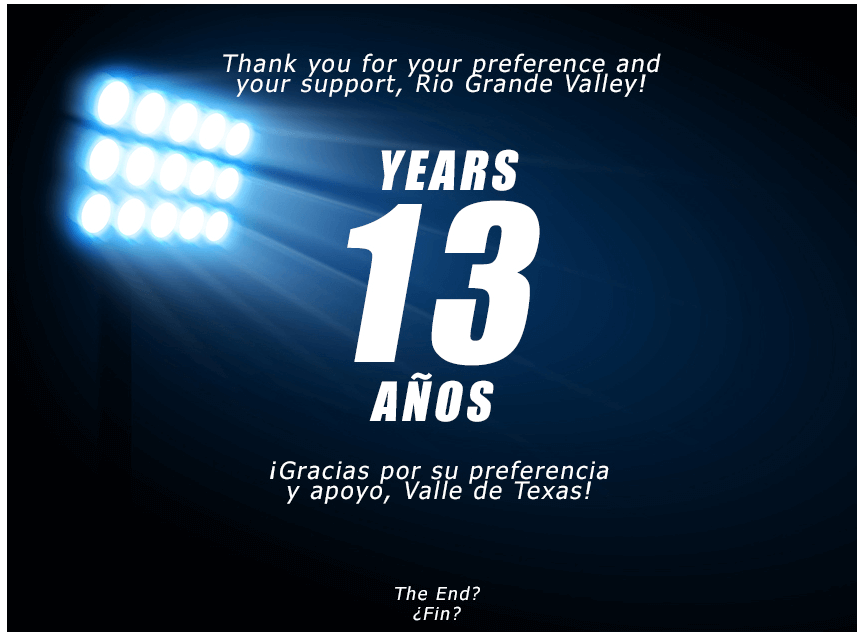 Wayback has their last time-stamped back up on December 24th and their URL was recently re-registered on GoDaddy and set to expire January 2018. On the social media front, RGVFutbol has since deleted their Facebook page and last tweeted on November 18th.
We've reached out to their email handle, r[email protected], for comment but have yet to receive a reply.
If anyone has any information as to why these guys decided to call it quits, we'd like to know. Drop us a line at [email protected]
For now though, RIP RGVFutbol =(
UPDATE 1.27.17 2:20 PM
We have received the following response from RGVFutbol.com
Good morning.
We apologize for the late reply.
Unfortunately, a lack of advertising support made it impossible to continue the site due to the time and human resources involved.
Thank you for your interest in RGVFutbol.