It's only week 2, so we're not at that "judgement week" yet. Granted, a few upsets here and there are helping us shape out the college football landscape a little clearer.
So, what did we find out?
1) Oregon's Defense Failed Them Like We Thought It Would: After having 42 points hung up on them last week against Eastern Washington, we knew they weren't coming out of East Lansing unscathed. We were right. But hey, on the bright side, they sure looked good losing.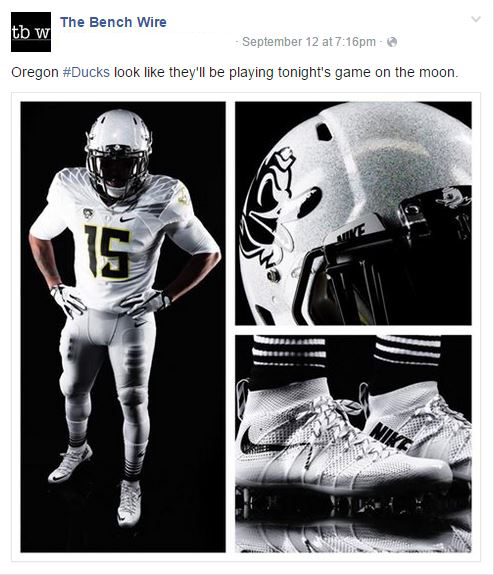 2) Texas May Have Finally Found Their Savior: After last week's disasterpiece against Notre Dame, Texas Coach Charlie Strong decided to make a few major changes to wake his team the fuck up. One of them was demoting Co-Offensive Coordinators Joe Wickline and Shawn Watson and promoting WR coach Jay Norvell to lead the offense. The other was naming redshirt freshman Jerrod Heard the starter after the "year and 1 game" experiment Tyrone Swoopes mercifully ends. It paid off.
3) BYU Is Having A Hell Of A Start: After backup QB Gunner Mangum (name of the year nominee) had to step up after starter Taysom Hill went down with a foot fracture and finished off Nebraska with a late 4th quarter Hail Mary, he spent the last part of Saturday's game vs Boise State doing it all over again..
4) Auburn Needs To Get Their Shit Together: After having nearly given the game Louisville Week 1, the Tigers almost blew it against DII Jacksonville State. The Tigers gave up 438 yards, including 277 through the air. In 2 games this season, QB Jeremy Johnson has already been picked off 5 times. Forget the Iron Bowl; If Johnson couldn't get through Louisville and a DII school without turning the ball over, how the hell is he supposed to get through LSU next week? As it should, these performances have cost Auburn dearly in the polls. If Auburn can't get this straightened out, it's gonna be a long season.
5) USCs Back, For Real This Time: Cody Kessler is for real. In 2 games he's hung up 7 TDs and 650 yards. Granted, he won't be playing Idaho every week, but completing 78.9% of your passes is still pretty amazing. Barring some upset to Utah, USC should run the table all the way through to UCLA (who may do the same), pitting both LA schools into a de-facto playoff. Football is exciting in LA again, and I didn't even bring up the NFL.
Top 5 Teams:
1) Ohio State
2) TCU
3) Michigan State (+2)
4) Alabama (-1)
5) Baylor (-1)
Heisman Watch:
1) Ezekiel Elliot
2) Trevone Boykin
3) Derrick Henry
4) Cody Kessler
5) Dalvin Cook
Dropped Out: Braxton Miller, Royce Freeman