NBA Finals Game 2: What The Hell Was That?
Last night's Game 2 of the NBA Finals was not pretty. It was sloppy, at times both Cavaliers and Golden State struggled to score and the refs took control of the game…by not ACTUALLY controlling the game. It was a throwback 90's kinda game and damn was it a hell of a game.
Let's get one thing absolutely clear. Something that everyone slowly, just now, has started to realize in the wake of this game: LeBron James is and always will be the best player of this era. The comparisons to Jordan need to end. Any questions about his toughness and his ability to will a team that has NO business being on the same court as Golden State to 3 games from a championship, need to end already. What took mostly everyone by surprise was the steady flow of no-calls for James late in the 4th; watching the game, I wasn't the only one who thought the refs did a pretty poor job down the stretch, and basically excused themselves out of the last 5 minutes every time James drove to the basket. With a rag-tag group of guys that even Disney wouldn't use for an underdog sports movie for team mates, paired with an absent ref squad, James turned in a performance we hadn't seen since Game 6 of the 2013 NBA Finals. In the grander scheme of basketball history, this game is another gem that we'll all look back on and just say "Damn..how in the hell did he pull this off?" So now that we got the obligatory nod to James and his role in basketball history out of the way, let's talk about the hell we just witnessed last night.
I remember thinking throughout the game, "I wonder how many people even knew of Matthew Dellavedova's existence before these playoffs?" It's weird that being that he's in the NBA, he is one of just a handful of people that are actually good enough to be on an NBA roster (which only carries 12-15 guys on it). I mean, you have your superstars, you have your "role players/guys that were good in college, but never panned out" who journey from team to team that you'll here about every game or two and say "oh yeah, I remember that guy. He's with them now?" and then you have the "Who The Fuck Is That?" guys. That's the universe that guys like Bismack Biyombo (Yes, he's a real player on a real team) and Dellavedova come from. You might know Dellavedova from decimating the Atlanta Hawks roster during the Eastern Conference Finals by not fault of his own. What's more important is as these playoffs keep going, his overnight zero-to-hero legend just keeps getting bigger as it turns out that his own team may have forgotten he existed after Game 1 of the NBA Finals. Once more, he was able to provide us with this honest, great moment in basketball history and a lesson in socio-racial dynamics:

That goofy-looking Aussie who was asked to step up when Kyrie Irving's fractured his knee-cap actually came through last night. His stat sheet looked like he had little to no impact in this game, but Dellavedova was birthed from the word "intangibles." Of what was not on his own stat sheet, he made NBA MVP and record holder for the most 3-pointers made in a single season earn the record for most missed 3-pointers in an NBA Finals game. And of all the people that it came down to in the final seconds of play, Dellavedova was the guy who came up with the offensive rebound after James' late layup was blocked; got himself fouled, and made two ice-cold buckets from the stripe to give the Cavs the go ahead. A performance to award him with his own meme.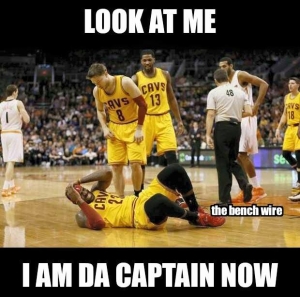 The Warriors played the way they were supposed to, just like they have these entire playoffs. Play small, live on the perimeter. And it almost worked thanks to JR Smith doing JR Smith things like fouling out with 3 fouls remaining in the closing minutes of the 4th qtr, with his last foul getting caught in the air by a Curry pump fake which could have resulted in a 3-point foul (but didn't upon further review). Klay Thompson was unstoppable in the first half with 21 points and closing the night at a career-playoff high with 34 points.
Even with Curry playing historically terrible and this spectacular highlight:

it still felt like Game 2 was going to repeat the same ending of just a few nights ago. The Cavaliers open up a lead, the Warriors close that lead, and force overtime. Cavs would run out of scoring options because not even LeBron can beat a constant triple team, Klay would get hot again, Curry would wake the hell up and just annihilate his goofy-ass muppet defender and the Warriors would just pull away again. That didn't happen.
In a game that we all thought wasn't going to be that close at all, Game 2 has completely shifted the tone of this NBA Finals. A play here or there and either team could have been 2-0 at this point.
So now…what the hell's gonna happen in Game 3?