If you peruse through ValleyCentral.com, you'll notice that one of their latest stories is headlined "Southwest Airlines offering flights as low as $59," which, on its face may be newsworthy, but once you click on the link, the post is void of any journalistic input and kinda looks like a paid advertisement.
The post reproduced in full:
by SBG San Antonio. Tuesday, January 2nd, 2018. SAN ANTONIO — Southwest Airlines is offering fares as low as $59 right now. Customers can purchase $59, $69 and $80 one-way domestic and international flights to select destinations from Tuesday, January 2nd through Thursday, January 25th. The offer is for a limited time only and applies to select dates. CLICK HERE for more details.
That's it.
The "click here" portion leads you to a list of discounted flights between destinations on Southwest's website.
Ads are a normal way for a news site to pay for their site, workers, graphics, etc. (except our site, of course, because our funding comes directly from our virtually limitless bank accounts!). There are even posts that are embedded with content that are sponsored ads, so why am I picking on ValleyCentral about this?
Because all of those ads, even sponsored content, is clearly labeled as such. The FCC has strict guidelines that keep media companies from being "bought" into passing on certain information as "news" and not an advertisement. Nowhere in this post is it at all indicative that the article is, to the reasonable observer, an advertisement.
What's also worth pointing out is the name of the author, "SBG San Antonio" which stands for Sinclair Broadcast Group San Antonio, a right-wing media company who owns KGBT and a plethora of other local news stations all across the country, making them one of the largest media broadcast companies in the world.
Just recently, however, Sinclair was fined $13.2 million by the FCC for failing to disclose 30-minute news segments as paid advertisements for the Huntsman Cancer Foundation in Utah.
We've messaged the webmaster and producers at KGBT for an answer: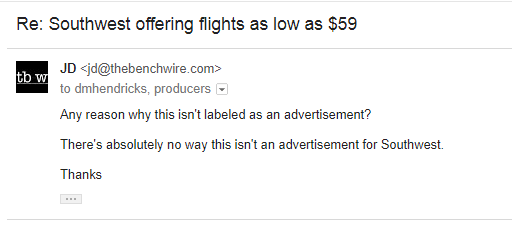 We'll keep everyone posted once they respond.