A little after McAllen City Commissioner Richard Cortez announced that he would be running for the vacant Hidalgo County Judge seat against Eloy Pulido, three candidates have thrown their name into the ring to step in and replace Cortez; none of which have had a more bat-shit campaign than Tim Wilkins. 
For those asking, "Who the hell is Tim Wilkins?" you're not alone. Before this race, Wilkins was a political unknown having never run or been appointed to a position with any government entity previously. Wilkins is a local businessman and self-proclaimed "property tax consultant" who owns, along with his wife Rachel, Get Land Management, LLC., Texas WG Development, LLC., CADTax (a company that provides appraisal tax appeal services) as well as "Sofie's 'SS' Saloon," a bar in South McAllen. He's also the brother of attorneys Tom and Mark Wilkins, who own and operate a law firm named Wilkins & Wilkins.
So, simply, Wilkins is just another business owner with some connections and gobs of cash lying around, so sure, why NOT run for something? Pretty normal stuff, right?
Please enjoy this list of high(low?)lights from Wilkins' campaign so far:
Wilkins has spent 3 times more than his opponents
According to Wilkins' campaign finance report (below), Wilkins has spent a whopping $41,582 on his campaign, which absolutely dwarfs his opponents' Dr. Joseph Capurosso ($16,190) and attorney Javier Villalobos ($8,484) spending.
To note, Wilkins loaned himself $30,000 for his campaign and received a non-monetary donation of $1,320 in the form of campaign signs from Othal Brand, Jr., the same guy who thought the same major out-spending tactic would pay off when he got trounced in last year's mayoral race.
He also spent $4,000 on his absolutely-not-worth-$4,000 website. Jesus.
Tim Wilkins Campaign Finance Report 2017-2018 by The Bench Wire on Scribd
Wilkins Admitted He Got Scammed Out of $8,000 Of His Campaign Money
After The Monitor wrote their piece on Wilkins' spending, Wilkins took to Facebook to defend the amount as well as claim that he would be receiving an $8,000 refund after attempting to purchase aerial banner political ads from a company he didn't realize was defunct.
So, again, a candidate who would be in a powerful position to allocate public money, basically claimed that he mismanaged his own money. Ok.
Here's his rant in full: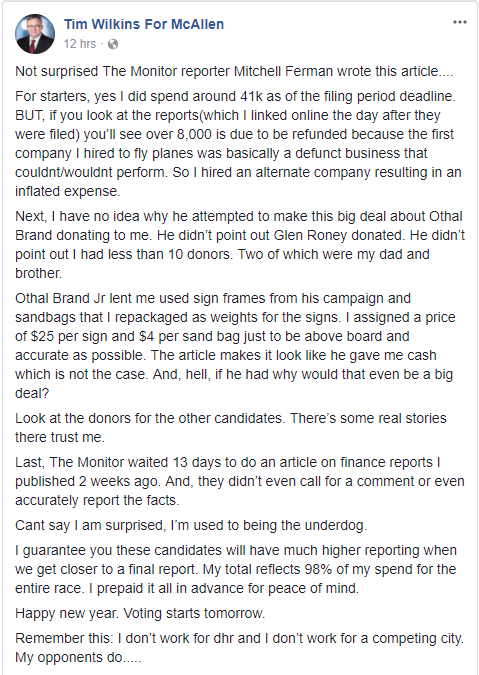 He was arrested for aggravated assault with a deadly weapon in 2016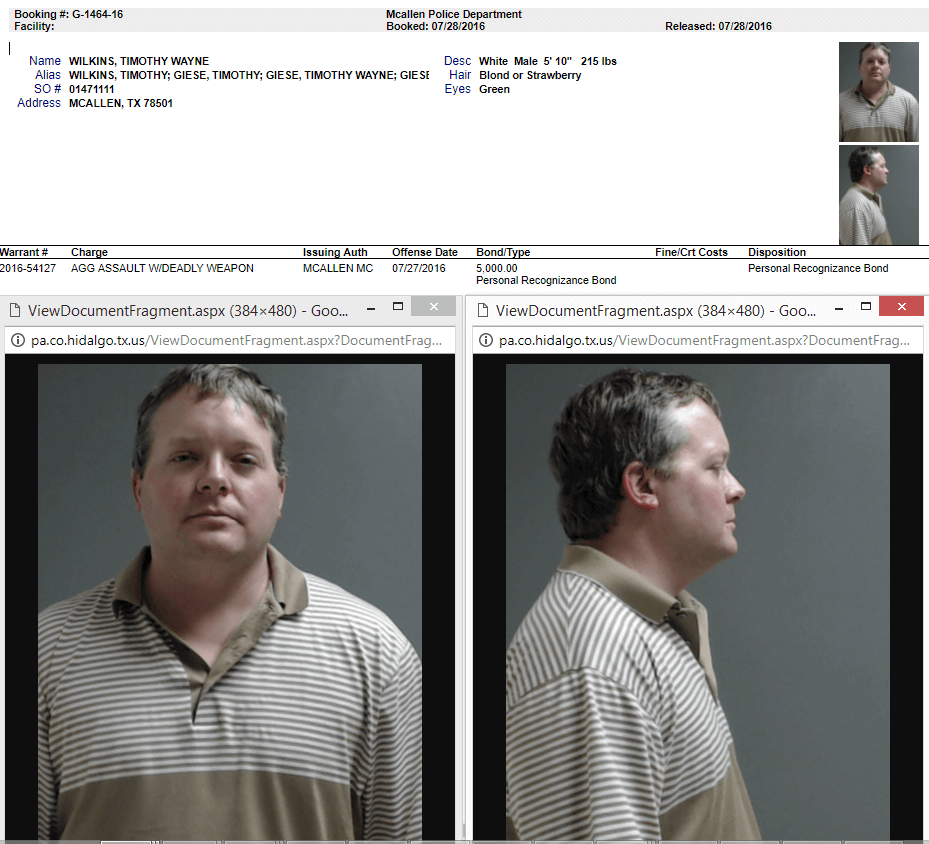 To be fair, the charges were dismissed and Wilkins took to his own website and Facebook to explain the incident in a video called "my dirt."
He's The Anti-Bird Candidate
I don't know what's going on in this video, but let's watch Wilkins get shit on by imaginary birds together, shall we?
He insists on writing in his treasurer's nickname on every official document.


We get it…he's cool. (wasn't there a DJ by that name here a while back?)
Early voting starts today in McAllen, so take this article with a grain of salt.
Hey, at least Wilkins doesn't like medians either.