Earlier this week TEA released a preliminary A-F Accountability report grading schools for their performance for the 2015-2016 school year. Beginning in 2017, per HB 2804, TEA will issue "A-F" grades for school districts to measure their performance, abandoning their "meets standards-needs improvement" model. Districts are split as to whether this is a good idea or not, but either way, it's hard to argue that the model DOESN'T give parents an easier snapshot of how well or how poorly their local district is performing.
Here's how RGV Schools did this previous school year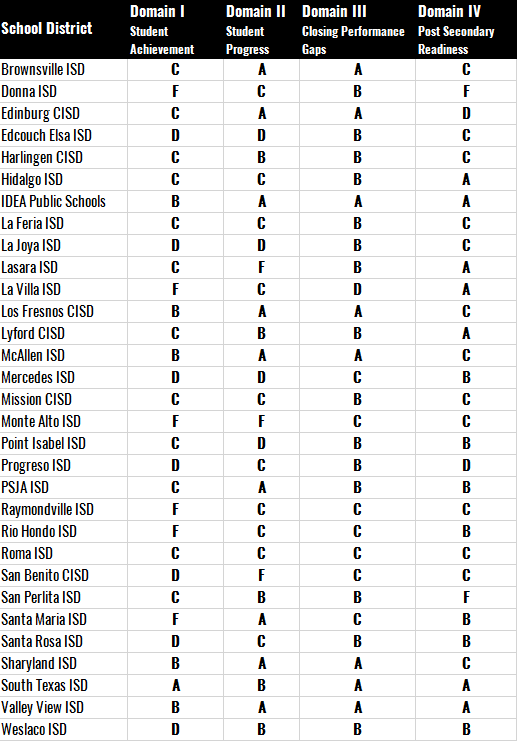 Because we at The Bench Wire are your friends, we decided to go the extra mile and calculate each schools GPA, rank them and categorize them appropriately.
The Top 10%
IDEA Academy – 3.75
South Texas – 3.75
Valley View – 3.75
Your Ivy Leagues. 2 of the 3 look like they're ready for the big leagues, but Valley View might be that student that goes to Princeton, does poorly their first two semesters, and then finally does ok their 3rd semester but not good enough to stay off academic probation, comes back home and settles for a 4.0 at UTRGV.
Going To Texas, Rice, Baylor, or A&M
Los Fresnos – 3.25
McAllen – 3.25
Sharyland – 3.25
These were the students who were smart but still had a life and whom you'll probably never see again after graduation.
The UTRGV Draft
Brownsville – 3.0
Lyford – 3.0
PSJA – 3.0
Edinburg – 2.75
Hidalgo – 2.75
Decent GPA and maybe could've gotten onto a waiting list at UT or A&M, but decided to play it safe and stick around here to get a business degree. These are the people who you'll keep in contact with 10 years after high school and 70% of their conversation will be about how much they hate the Valley.
JagNet All Day, Every Day
Harlingen – 2.5
Weslaco – 2.5
La Feria – 2.25
Lasara – 2.25
Mission – 2.25
Point Isabel – 2.25
Santa Maria – 2.25
Santa Rosa – 2.25
Not exactly the best or the worst students, but were your filler C with the occasional B. This makes up a bulk of your class. Maybe Harlingen or Weslaco might surprise us by owning their own business someday, but all signs point to administrative and retail jobs all of their lives.
RESPECTSTC
Roma – 2.0
San Perlita – 2.0
EE – 1.75
La Joya – 1.75
La Villa – 1.75
Mercedes – 1.75
Progreso – 1.75
Rio Hondo – 1.75
These were the students that dicked around a little too much and spent at least a few days a month in ISS.
The Second Chance Crew
Raymondville – 1.5
Donna – 1.25
San Benito – 1.25
These are the students who should've just stayed another year in HS, so by going to VoTech, it'll feel just like that. Donna and San Benito will probably get married and have, like, 8 kids and you'll probably see them at Stripes EVERY time you go pump gas and have that awkward conversation about what each other is doing. "Working! Jusss working, you know."
Welp, guess I'll go work in the oil fields
Monte Alto – 1.0
Monte Alto may or may not have graduated HS (You'd be too embarrassed to ask) so he'll sign up to go work out in the oil fields the day after graduation and end up raking in more money than everybody cause, you know, life!
Here's the complete list (again, use zoom).