Congressman Vicente Gonzalez (D-McAllen) and Congressman Filemon Vela (D-Brownsville) have both released statements today that they will not attend President-elect Donald Trump's inauguration Friday.
Congressman Vela's statement was posted on Facebook earlier today.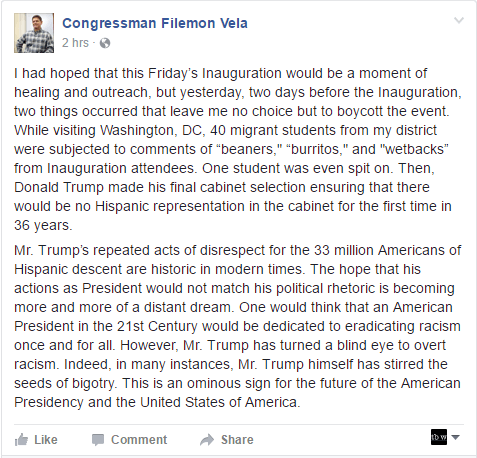 Full Text
I had hoped that this Friday's Inauguration would be a moment of healing and outreach, but yesterday, two days before the Inauguration, two things occurred that leave me no choice but to boycott the event. While visiting Washington, DC, 40 migrant students from my district were subjected to comments of "beaners," "burritos," and "wetbacks" from Inauguration attendees. One student was even spit on. Then, Donald Trump made his final cabinet selection ensuring that there would be no Hispanic representation in the cabinet for the first time in 36 years. Mr. Trump's repeated acts of disrespect for the 33 million Americans of Hispanic descent are historic in modern times. The hope that his actions as President would not match his political rhetoric is becoming more and more of a distant dream. One would think that an American President in the 21st Century would be dedicated to eradicating racism once and for all. However, Mr. Trump has turned a blind eye to overt racism. Indeed, in many instances, Mr. Trump himself has stirred the seeds of bigotry. This is an ominous sign for the future of the American Presidency and the United States of America.
.
Congressman Gonzalez' statement was released by his Chief-of-Staff Jose Borjon to The Monitor stating his absence is also in protest to Trump failing to pick a single Hispanic member in his cabinet.
Congressman Henry Cuellar (D-Laredo) who represents the West-most ares of the Valley did state that he plans to attend the inauguration and released a statement of his own.
I see my role as a congressman is to be part of this peaceful transition from one president to another president. I've been doing this ever since I've been a member of congress. Regardless of what my opinions are of Donald J. Trump it's the process it's the tradition, the history we have that is important to me.
With Congressmen Vela and Gonzalez boycotting the inauguration, they join a growing list of 65 other Democrat representatives who have stated they will not attend.
President-elect Donald Trump is scheduled to be inaugurated Friday at 11:00 AM CST.