Jose Ernesto Lugo Jr. had announced his intentions to run for Mayor of Donna back in early June, joining three others vying for the same spot. After months of campaigning and fundraising and customizing fancy polo shirts, the City of Donna has disqualified him from November's mayoral race because Lugo seemingly forgot that he didn't live within Donna city limits.
The City of Donna sent out a press release regarding Lugo's ineligibility:
According to official documents, upon Mr. Lugo's request, the City entered into an agreement with Mr. Lugo in 2016, whereby Mr. Lugo's property would remain outside the City's corporate limits for 15 years.
According to Hidalgo County election records, Lugo is registered to vote at 2115 Lott Road. in Donna. (shown below)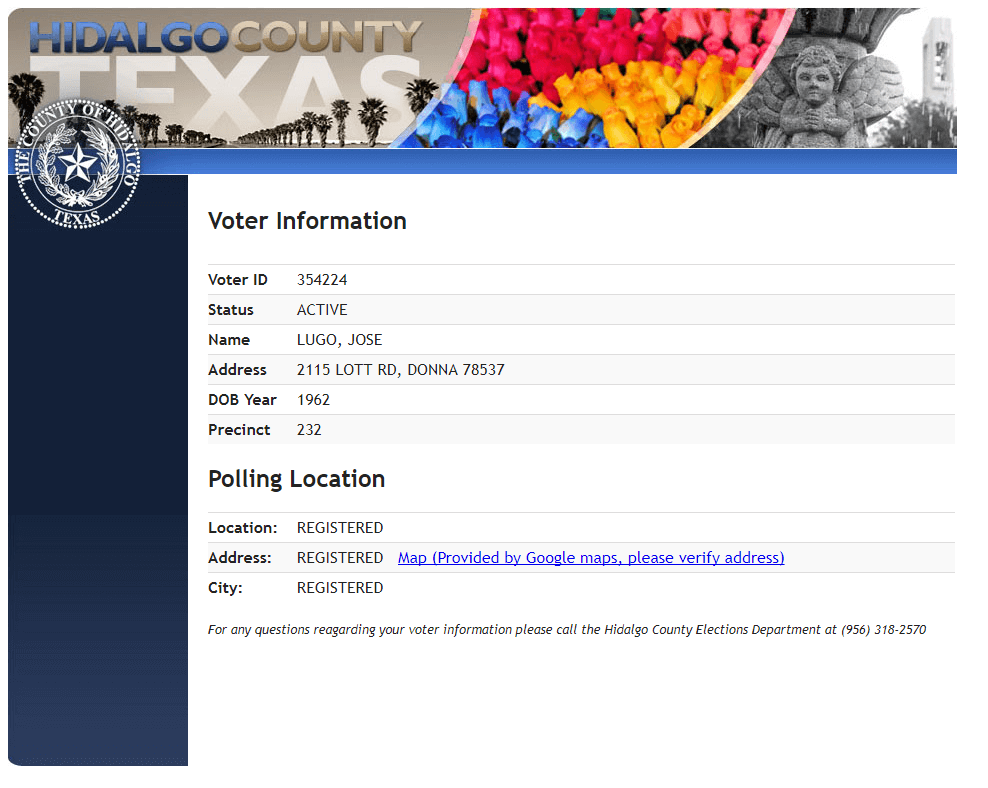 A quick lookup of the address' Hidalgo CAD records show that the owner is, indeed, Jose E. Lugo, operating as both a home and a business named "New Life Home Health Services" (back in June when Lugo announced his intentions to run for mayor, Valley Central wrote that he currently works "in healthcare") As you can see in the map below, the address is in an area fairly close to Scissors, TX and in the outskirts of what would be Donna city limits.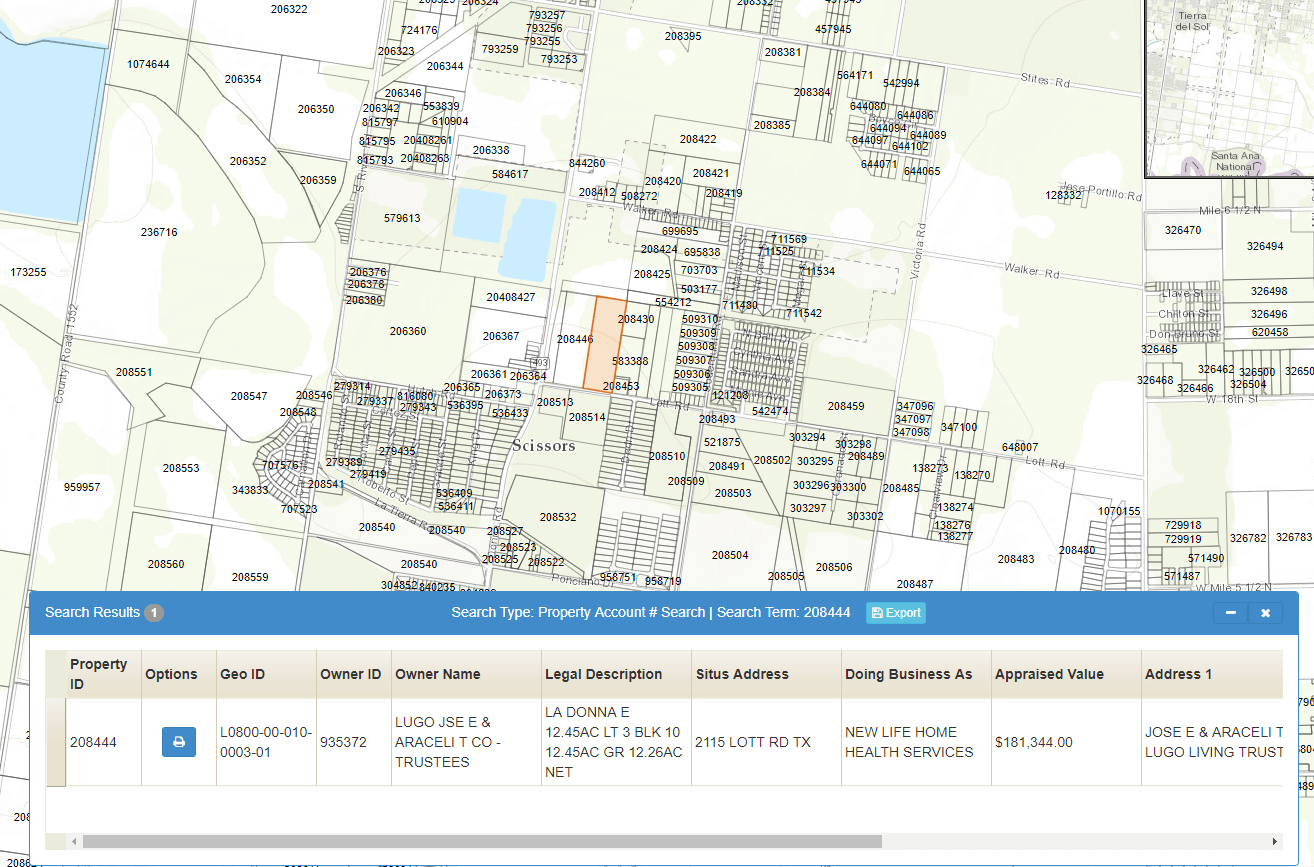 Looking into where the city limits officially end, we turned to a city ordinance considered late in 2016 regarding the voluntary annexing of the McGee tract in North Donna. The ordinance shows exhibits of drawn-out city limits in considering the ordinance. From what we can tell, Lugo's address falls just to the right of the red line.

Donna's City attorney Eddie Treviño stated that "It is not possible to remove Mr. Lugo's name from the ballot this close to the election." So, basically, any vote cast for Lugo is a vote literally thrown away.
Unsurprisingly, Donna has sort of become our local Florida in that every week that city just pumps out another news story that would literally happen nowhere else but there. Personally, I don't understand why anyone would be scared of ANY gang coming out of Donna, because God help them, that city can't do ANYTHING without fucking up. This is the shitty election that Donna deserves and every part of me wants Lugo to have more votes than any other candidate so that this election can be as hollow as this city's aspirations.
UPDATE: 10/16/2017 5:45 PM
Abel Prado, Lugo's campaign manager, spoke with us at The Bench Wire regarding the City of Donna's decision to disqualify Lugo from the mayoral race.
When we inquired on the release of the city development agreement that Lugo and the City of Donna had entered into, Prado stated that the agreement "is now part of pending litigation and we have been advised to not comment at this time before we can get a legal opinion from counsel." The counsel that Lugo has retained for the matter is Ruben Peña. To date, nothing has been filed in Hidalgo County in regards to this matter.
When asked if Lugo is aware that his property was currently not under the City of Donna's taxing jurisdiction, Prado said it is a "moot point since the city charter does not require a candidate to own property or pay city taxes to seek office." When subsequently asked what kind of message it sends when a mayoral candidate is currently not paying taxes to the City of Donna, Prado responded saying "Mr. Lugo pays various taxes to all the appropriate entities and is willing to release his tax records. I doubt the other candidates are willing to do the same."
We asked why Lugo would have entered into an agreement that would have kept his property out of the taxing jurisdiction and Prado stated that it is a normal practice for cities to annex under-developed land and claims that the non-tax agreement only applies to the under-developed portion of Lugo's land and not his actual home, although Hidalgo CAD's 2018 report still doesn't list the City of Donna as a tax entity on any part of the property.
Lugo and his team's position is that according to Donna's city charter, a person's eligibility and residency only "requires you to reside within the city limits, whether you pay taxes or not is not the issue" and that all of this is nothing but dirty politics in an effort to keep Lugo out of office and "(disenfranchise) the thousands of voters who have pledged to vote for him."
UPDATE: 10/16/17 4:25 PM
Lugo has since spoken out against his disqualification.
Lugo also provided a city limits map that he claims he was provided by the city in June of 2017. You can download the map for yourself here.
Further investigation into the 2115 Lott Road property also indicates that the property is not under the taxing jurisdiction of the City of Donna; ie he is currently not paying city taxes to the city of Donna for the property.

We have reached out to Lugo's camp to produce the documents regarding the June 2016 agreement between the city and himself as well as inquire if they will seek to file a TRO against the city of Donna, and eventually, an injunction if he happens to win the election.
Stay tuned for more updates.