In the wake of Sunday morning's tragedy where a gunman opened fire during a morning service at First Baptist Church in Sutherland Springs, Texas, killing 26 men, women, and children, news outlets sought reactions of various congressmen to help fill in airtime. In this instance, While Univision had first-year representative, and known Popeyes distributor, Vicente Gonzalez on a live telecast, Univision's anchor broke the news to the world, and unsuspecting Gonazlez, that the killer was none other than Sam Hyde.
A little later, Gonzalez went on CNN to speak with Ana Cabrera when Cabrera asked if Gonzalez had any new information regarding the attacker. Gonzalez subsequently answered that he had "heard reports" (Univision's report) that the killer was, indeed, Sam Hyde.
The problem? The "Sam Hyde Is The Killer" hoax has been trolled around the internet for years and Univision and Gonzalez got played HARD. The origins of this hoax can be drawn back to 4Chan and Reddit where, typically, after a mass shooting, some troll will dole out something that looks like this: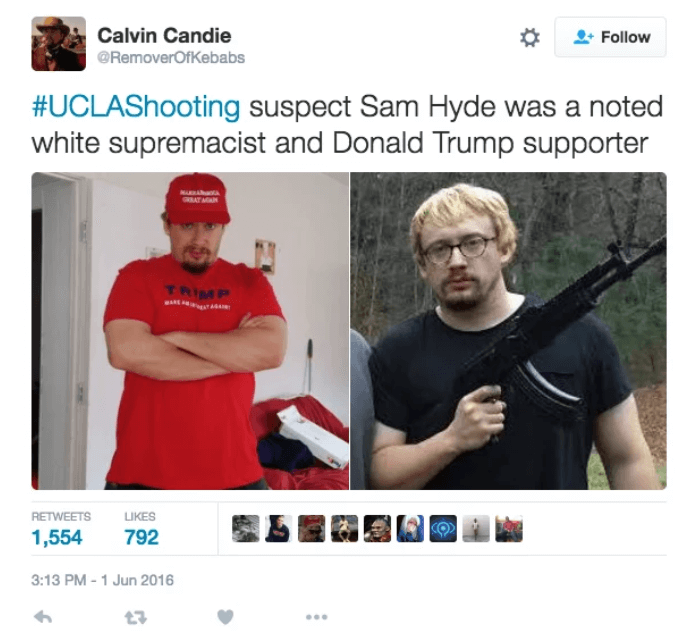 Buzzfeed has a more in-depth look into how exactly Sam Hyde became the target of choice for trolls looking to clog the news sphere with fake news and the New York Times has a good piece swatting out the misinformation that may be out there about the shooting itself.
CBS News later confirmed that the REAL identity of the killer was Devin Patrick Kelly, and again, NOT Sam Hyde.
In this clusterfuck, Univision, with their vast journalistic resources, is mostly to blame for poorly vetting the information before airing it on a live broadcast. Vicente, however, does have his fair share of shit to eat after he and his staff hadn't even taken a moment to verify whether or not Univision's claims were correct. Hell, even a simple Google search would have saved Gonzalez from absolutely shitting the bed on CNN.
-OH- Hold on guys, I..I'm hearing reports that Vicente's campaign has JUST released their new slogan:
Vicente Gonzalez: Fake News, Real Chicken.