Vicente "Chente, Con La Gente, Omnipotente, La Puente, Ya Vete" Gonzalez (D-TX) is a few months into his first term representing our 15th congressional district and has already fallen victim of a deliciously succulent, juicy butter biscuit of a rumor and The Bench Wire is here to BLOW THIS MOTHER FUCKER WIDE OPEN!
It all started yesterday afternoon when The Monitor published a story regarding Gonzalez, among other congressman, having dinner with President Trump where I'm sure Trump had a nice over-well-done steak with ketchup and probably spoke to his guests about a plethora of pressing issues and topics and absolutely nothing awkward like, you know, loyalty.
As I was perusing through the comments section of The Monitor's subsequent Facebook post of the article, my eyes directed at one particular comment from user Pedro Castorena Jr:

At that very moment, I knew what I had to do.
The hunt was on.
My first instinct was to Google "Vicente Gonzalez Popeyes" for the offshoot chance that maybe Valley Delta, a conservative website that looks like your grandpa designed it, would have hounded on this sort of thing.
Nope! But hooray for Harlingen for apparently getting two Popeyes in the span of less than a year and kudos on KGBT for chasing that Peabody.
Time to dig a little deeper. QUICKLY!! TO THE CAMPAIGN FINANCE REPORTS!!!
The FEC lists "Vicente Gonzalez For Congress" as his sole election committee so at least all of his receipts would be in one place. According to FEC data, Gonzalez' effort to secure the 15th Congressional District cost a little over $2.2 million, including $1.8 million out of his own pocket (so for those of you who were even considering a bid to run against him in 2018, you better be ready to throw down some serious cash). If this tender, meaty rumor was any bit true, then the expense would be somewhere within those $2.2 million.
After downloading the full expenditure report, I searched for "Popeyes" anywhere in the 733 different transaction that took place.
Nothing..not one "Pop" or "eye" between a $327.21 catering from Palenque Grill or $64,726.33 in charges to someplace called "Print Works."
Nothing. Not a damn thing.
But wait. Maybe…MAYBE Popeyes DONATED their chicken in an effort to give Gonzalez the spicy push he needed to get over the hump!
After, again, downloading the full contribution report, I searched tirelessly for "Popeyes" anywhere. ANYWHERE! Nowhere in-between Alonzo Cantu's $15,000 via Border Health PAC or (again) $1.8 million of Vicente's own money was there any sign of a Popeyes contributor.
I felt defeated and all felt lost. Would I ever uncover the truth to this crunchy, finger lickin' rumor? But then…a break. A BIG BONAFIDE ZESTY FLAVOR ORGASM of a break.
A few hours after Pedro Castena Jr's post, another, user Jasson Caltzontzint posted this picture: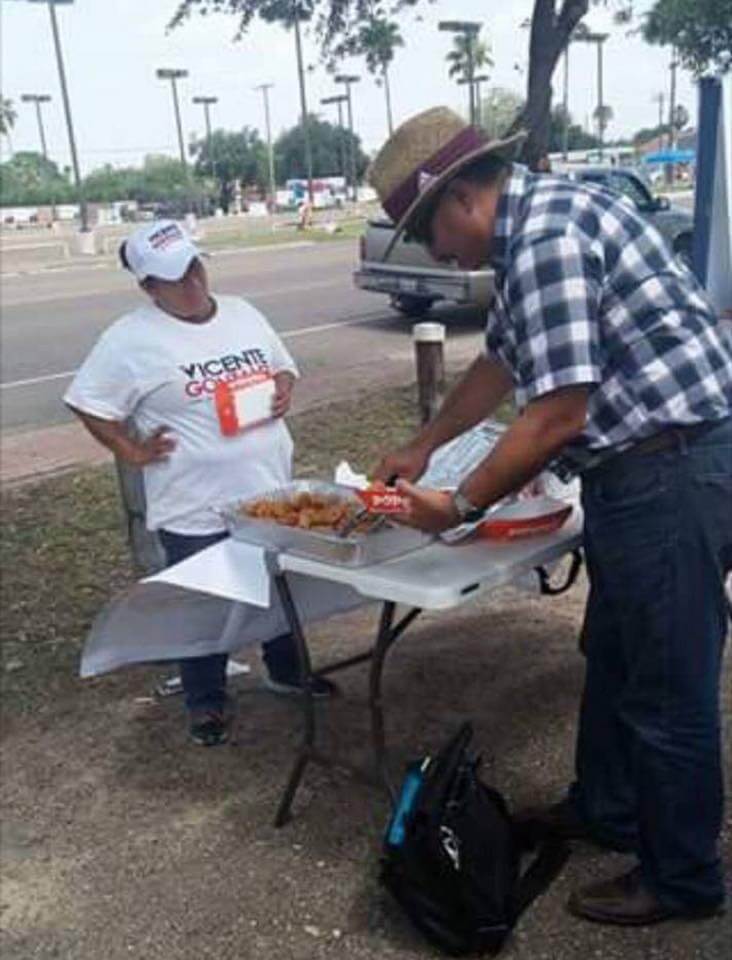 BOOM!
The golden brown evidence sitting right in my face. A Vicente Gonzalez official/volunteer on-looking what looks like a POTENTIAL VOTER(!!!!) going in on his second or THIRD(!!!) piece of delicious Popeyes sweetness.
I had what I needed to push my chips all-in, so I thought to go straight to the source and get SOME REAL ANSWERS!

We the people deserve answers, Vicente. We know you love that chicken from Popeye's, but do you love telling us THE TRUTH!!!
The ball is in Vicente's court and I'm sure not even Trump is willing to help him now.