Like most people, I tend to stay away from SPI during spring break simply because I don't want to contract gonorrhea. I also avoid Clayton's as much as possible because $10 for an ass-can margarita and a bullshit $5 "cooler charge" to access the beach behind their building (when they closed off the access to the side of their building) doesn't quite do it for me. So, when I think about Clayton's owner (whom I've never actually met) I imagine a shitbag who would do anything to squeeze out another dollar. I also, however, try to give people the benefit of the doubt (maybe he isn't a bag of shit?).
However, after the widespread backlash Clayton's had received for booking a known child sex offender in Tekashi69 this Spring Break, and Clayton's subsequent moronic defense of his booking, it's safe to say that Clayton Brashear is, in fact, the shitbag I thought he was all along.
Earlier this week, Clayton's shared a post on their Facebook profile announcing their booking of rap artist(? umm…sure) Tekashi69 for this March's Spring Break and NOBODY was having it.
You see, Tekashi69 aka Daniel Hernandez was charged and pled guilty to three felony counts of "use of a child in a sexual performance," where, in a series of videos posted by Hernandez himself that were discovered by authorities, it is shown that he was a party to a 13-year-old girl performing sexual acts with an adult. In one of the videos, the girl is shown naked, sitting on Hernandez' lap while another adult groped her. In another video, the girl is shown performing oral sex with another adult while Hernandez is seen standing directly behind her, thrusting his pelvis, however, there was no intercourse during this act committed by Hernandez. At the time, Hernandez was 18 years old.
Below is the criminal complaint filed against Hernandez:
Daniel Hernandez (6ix9ine) Complaint by Rich Juzwiak on Scribd
In condition of his guilty plea, Hernandez would receive one year of interim probation, ordered to not post offensive or violent pictures or videos of women, two years of mental health treatment, 300 hours of community service, ordered to obtain his GED, ordered to not commit a crime for two years, and ordered to write an apology letter to the victim and her family.
His sentencing hearing was originally set for October 20th, 2017 but has now been reset twice until April because he failed to obtain his GED.
Venues that had Takashi69 on their calendars quickly pulled him from their sets because clearly when you're going down the list of potential performers for your venue, most people would place admitted child sex offender at the absolute bottom of the list, if they're even on the list at all.
But Clayton Brashear is not most people because Clayton Brashear is a shitbag.
When faced with backlash over the booking, Brashear simply brushed off the critics and stated that the show would continue unless canceled by the performer.
Making the rounds on Facebook, here's the batshit crazy conversation that Clayton's official Facebook page had with another user criticizing their decision to book Takashi69, and by God, are Clayton's responses dumb as fuck: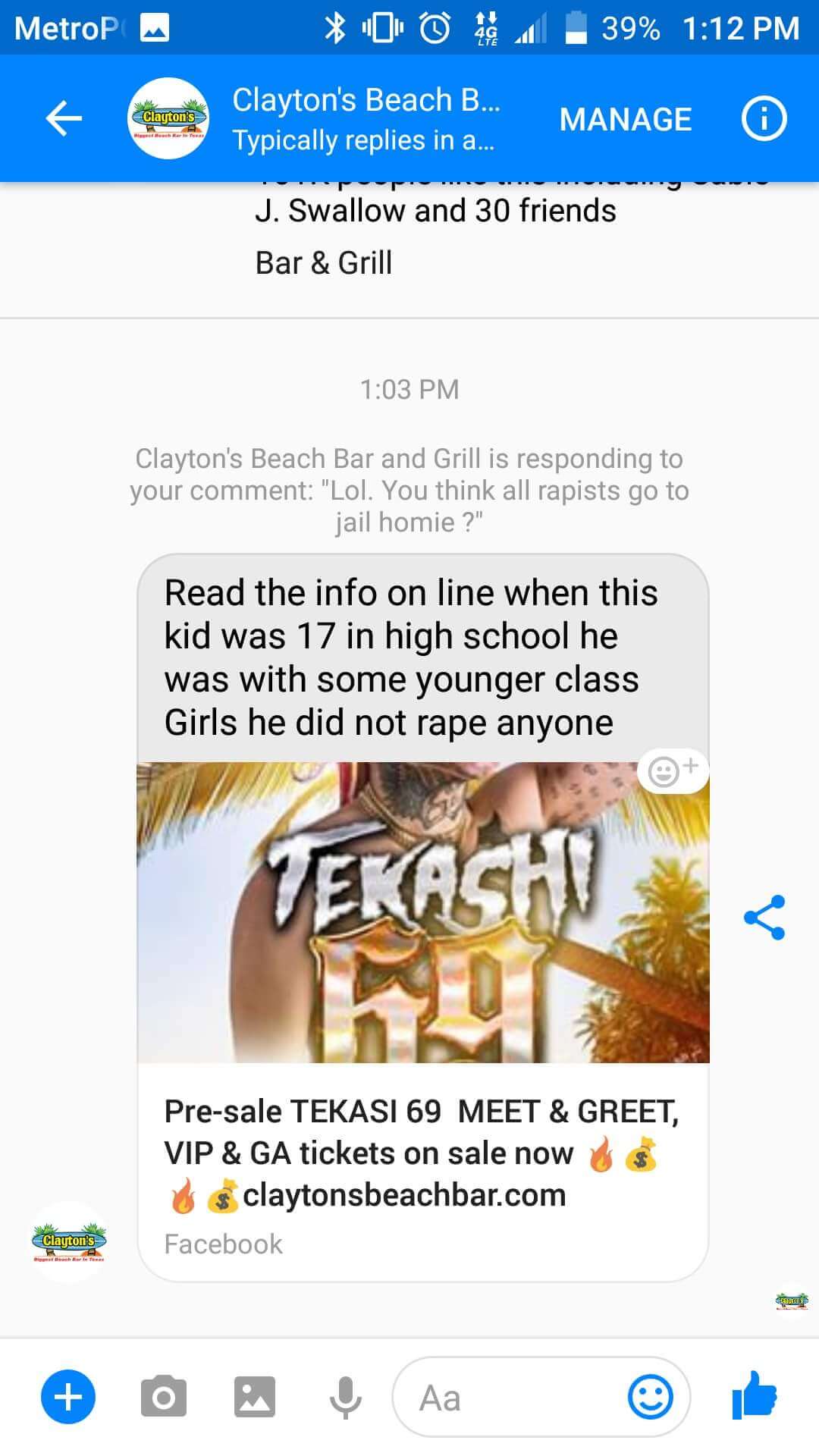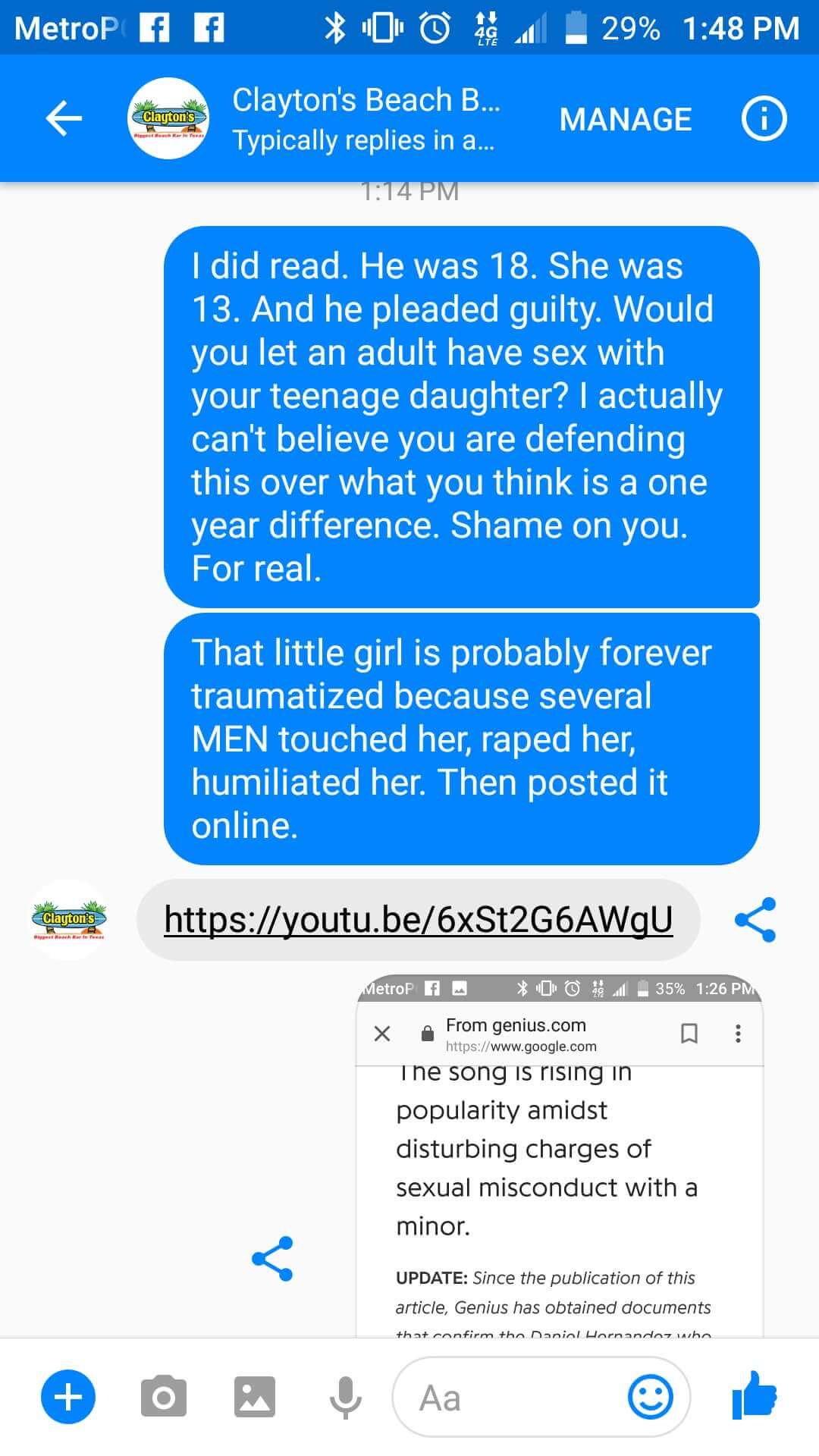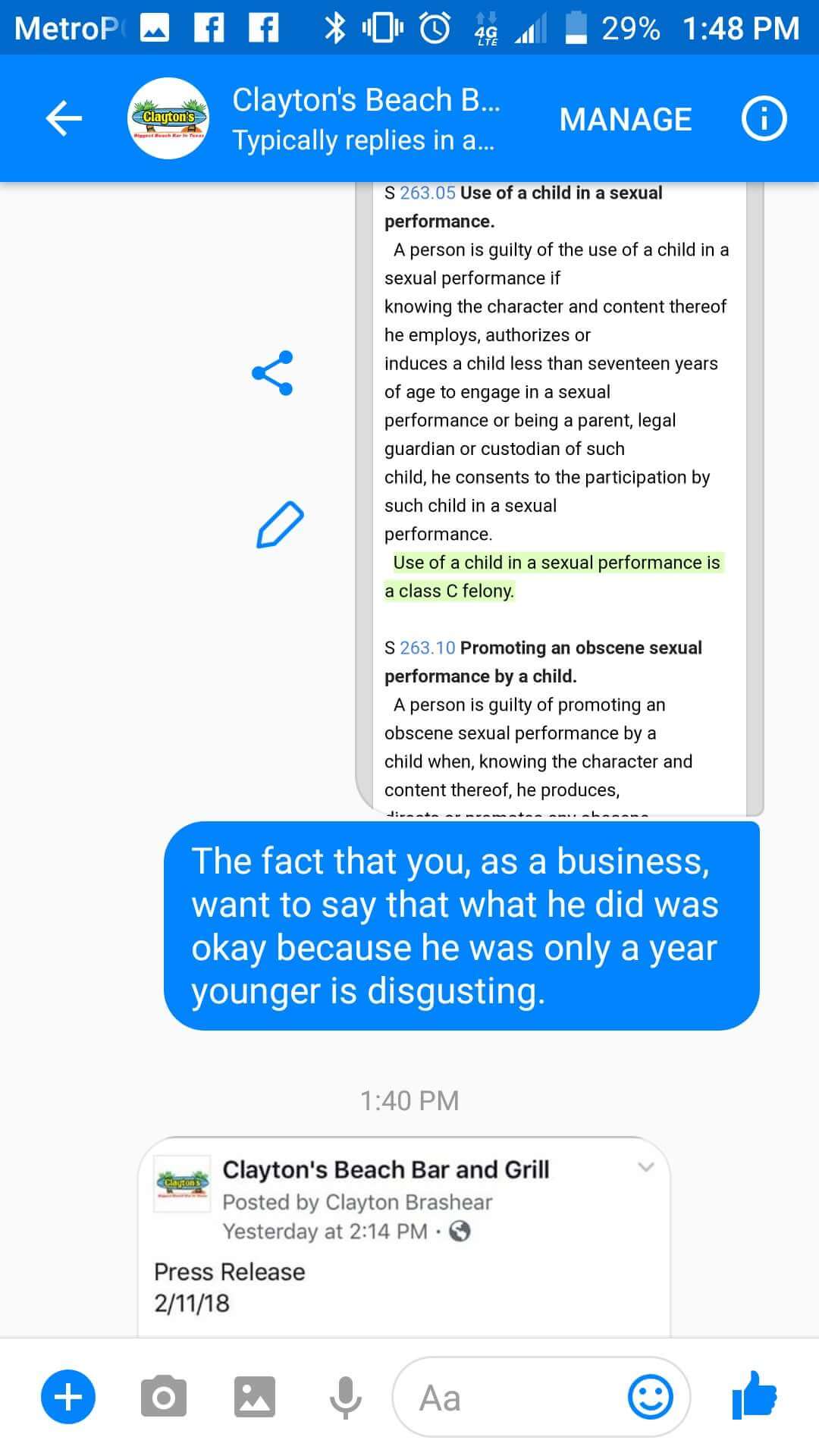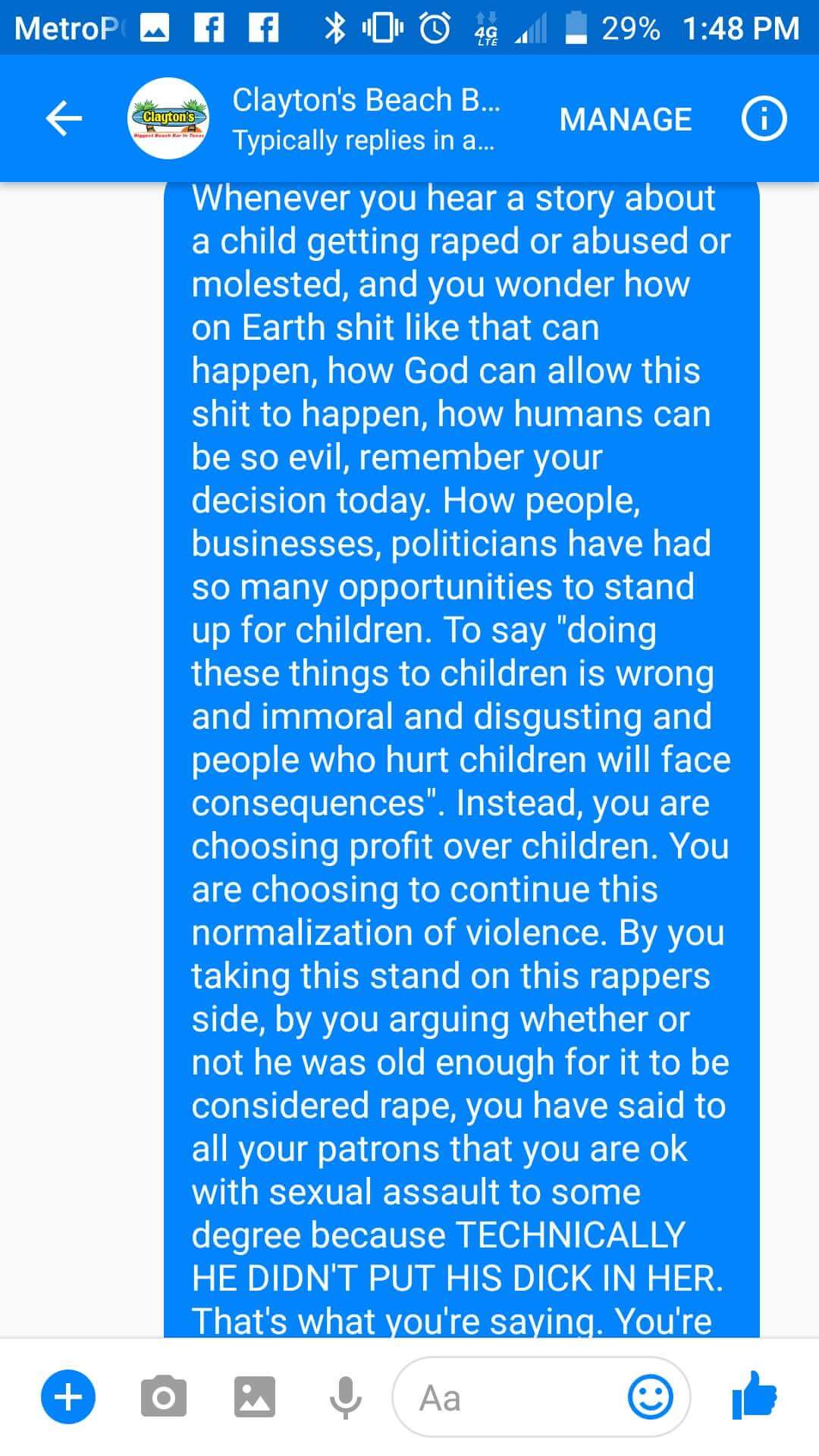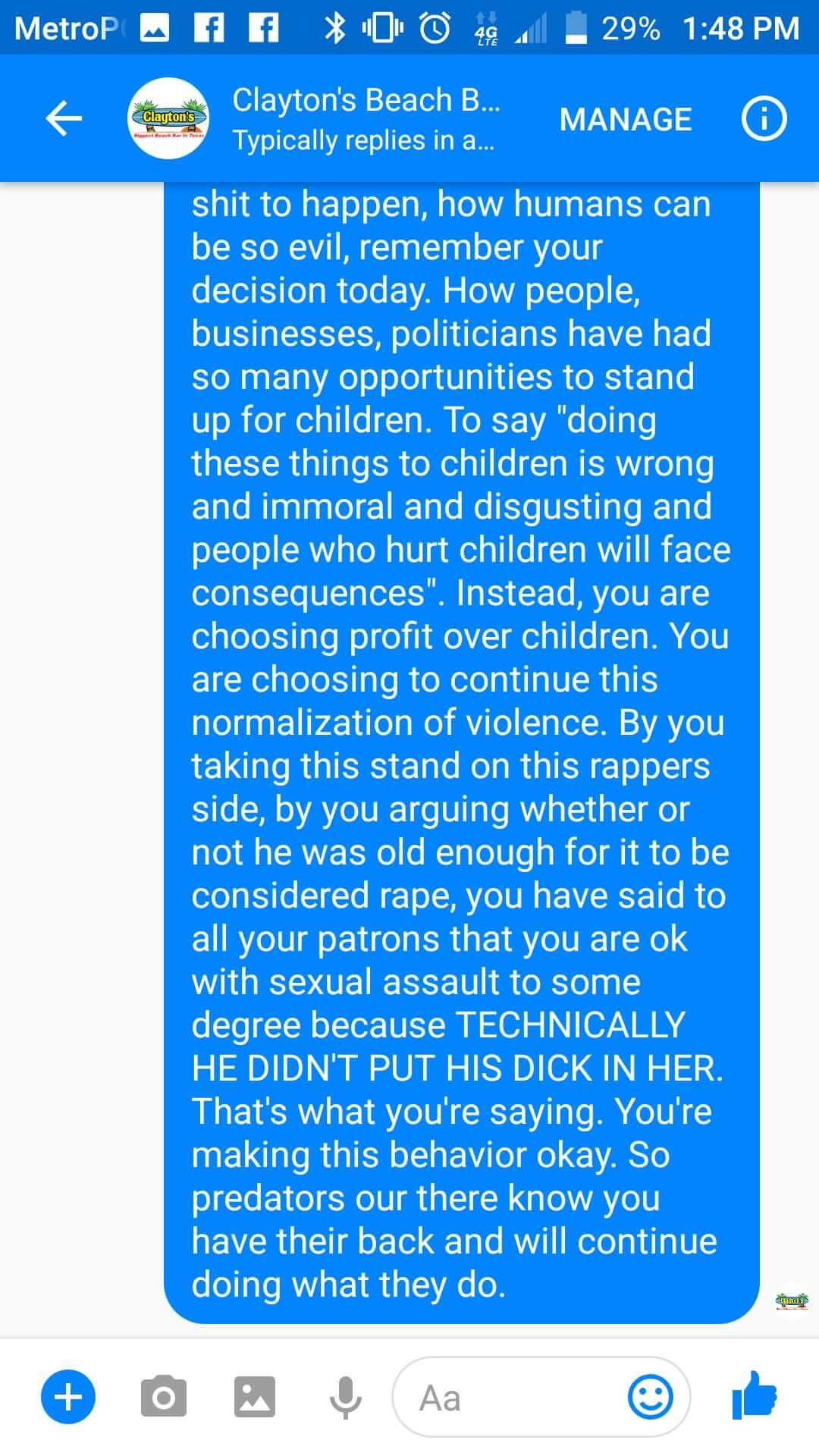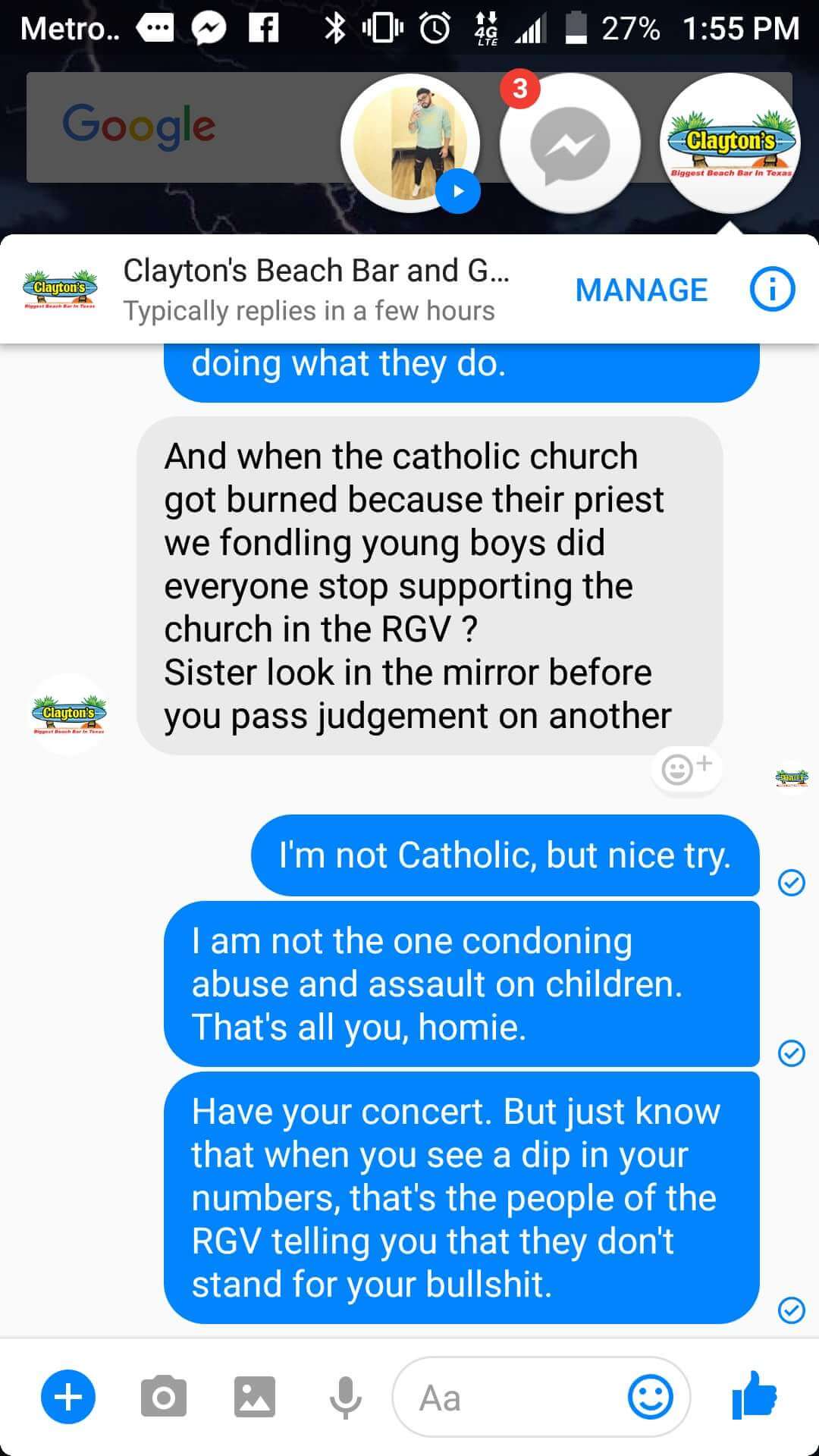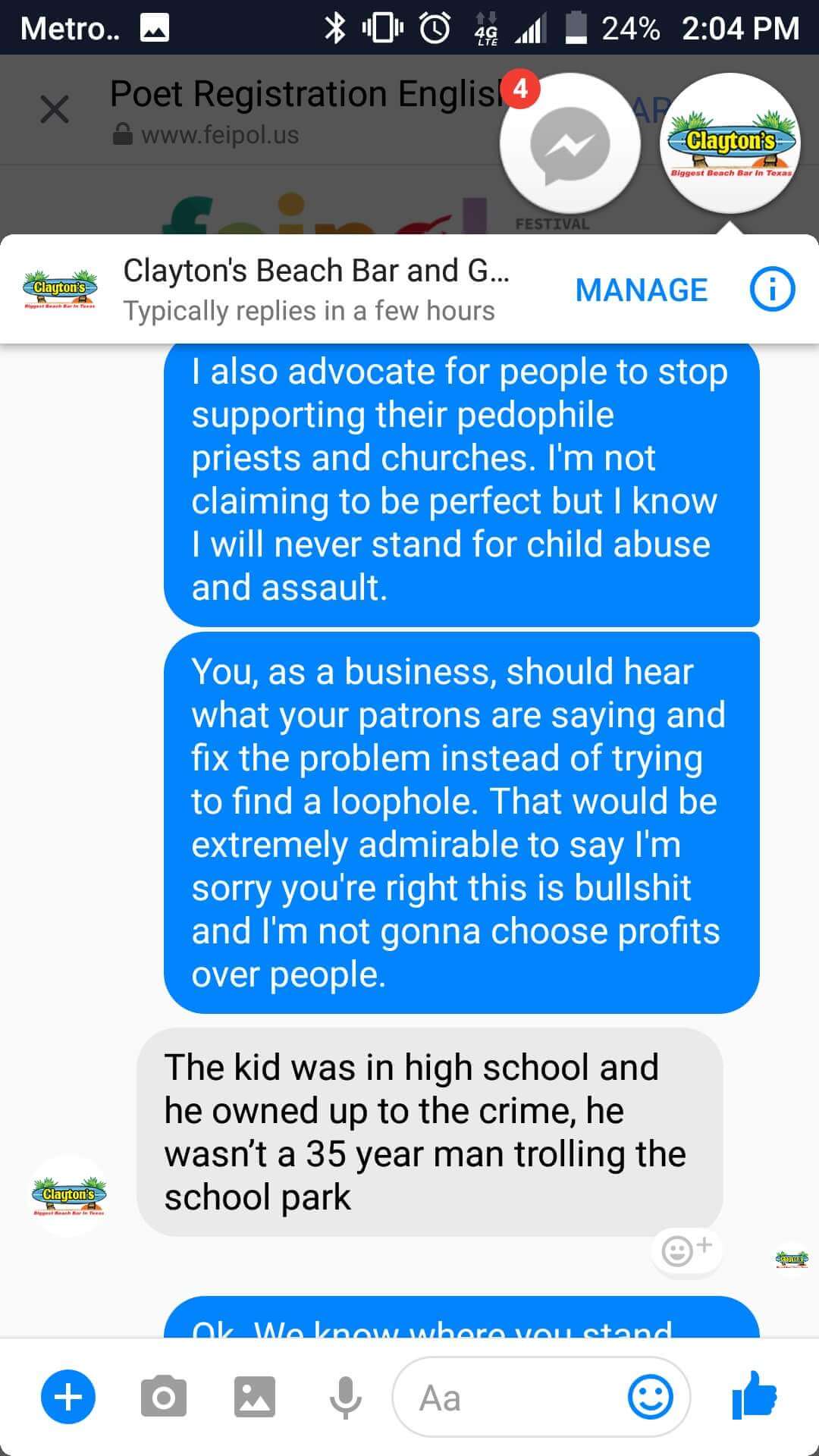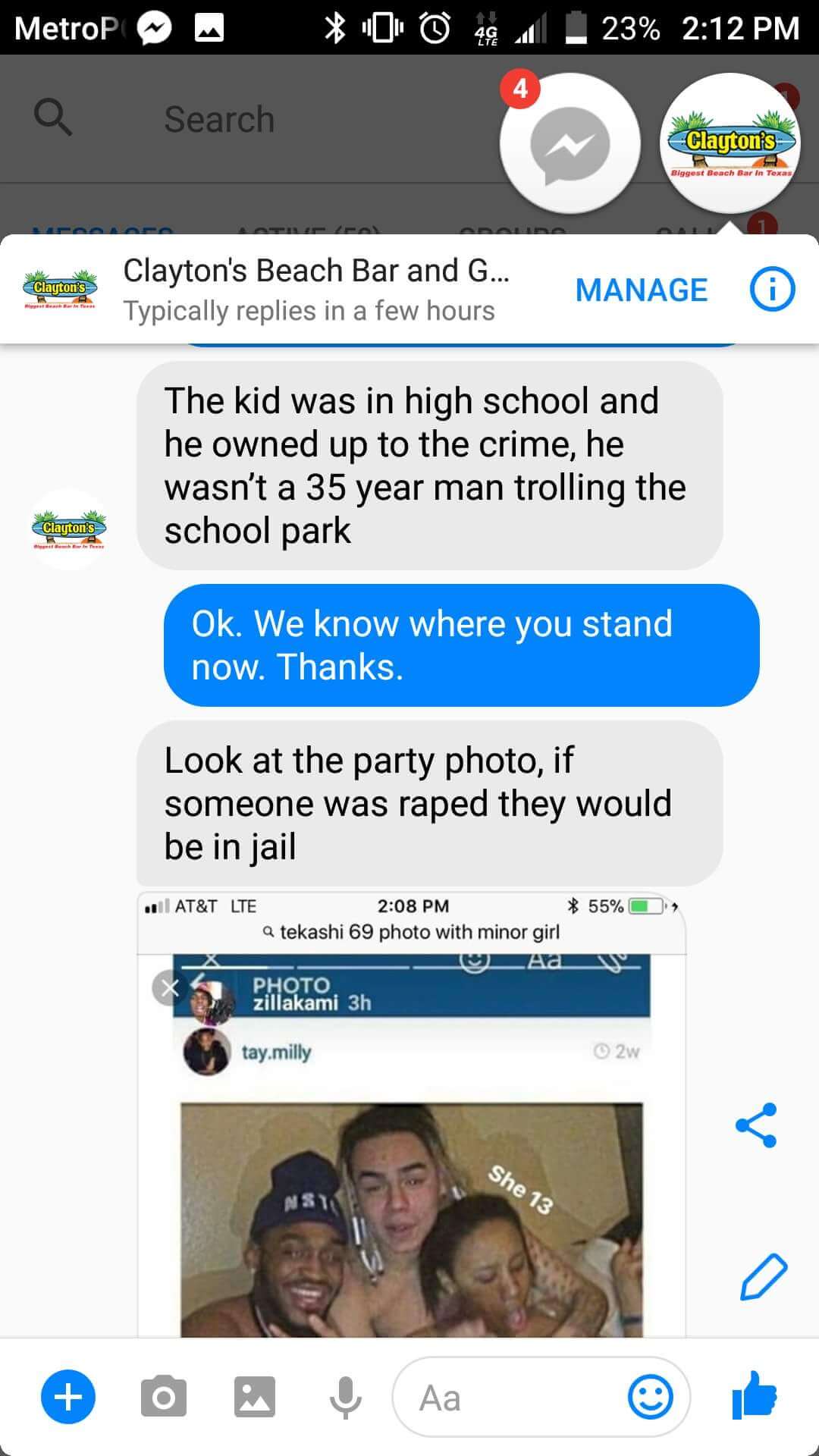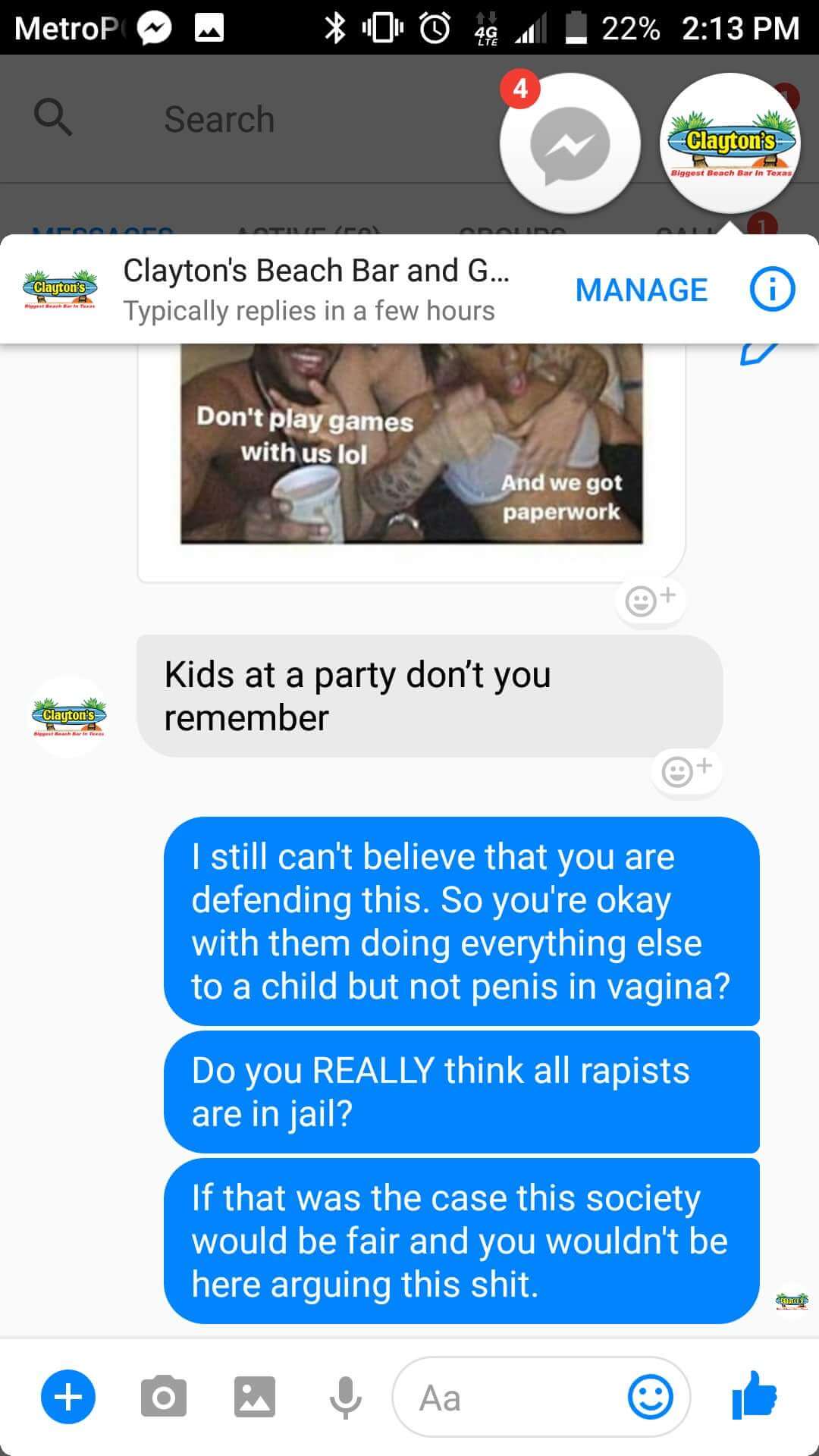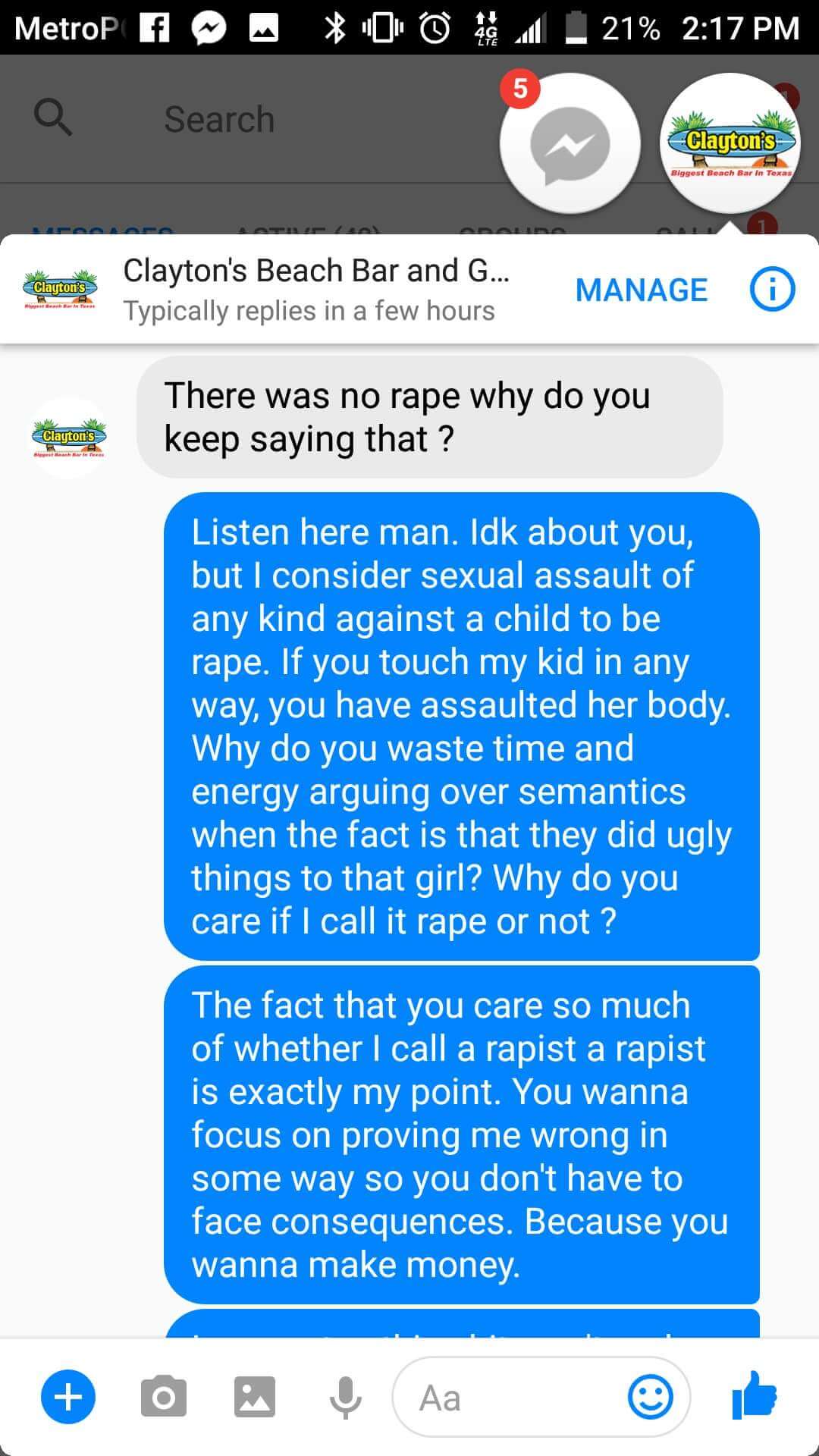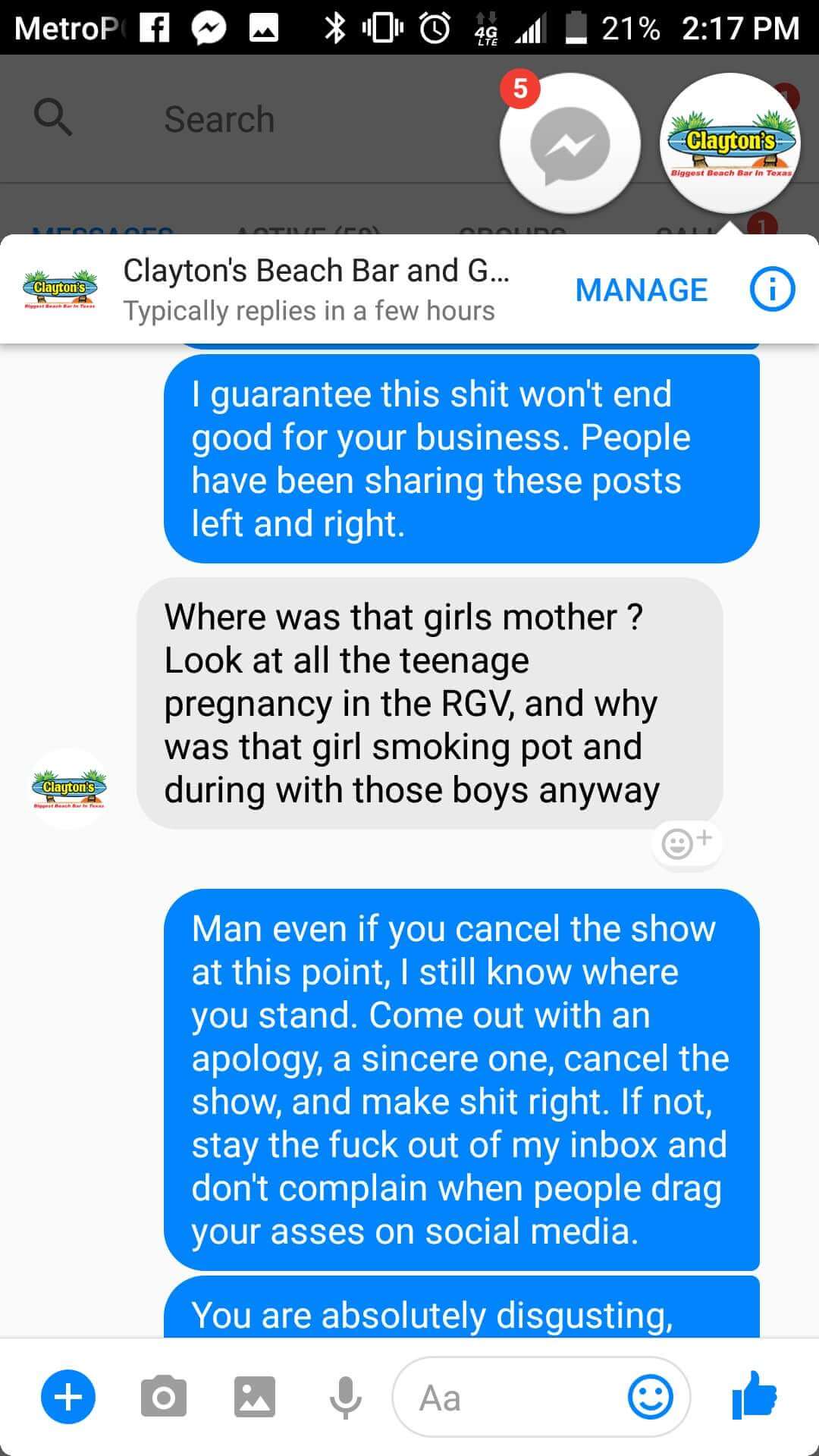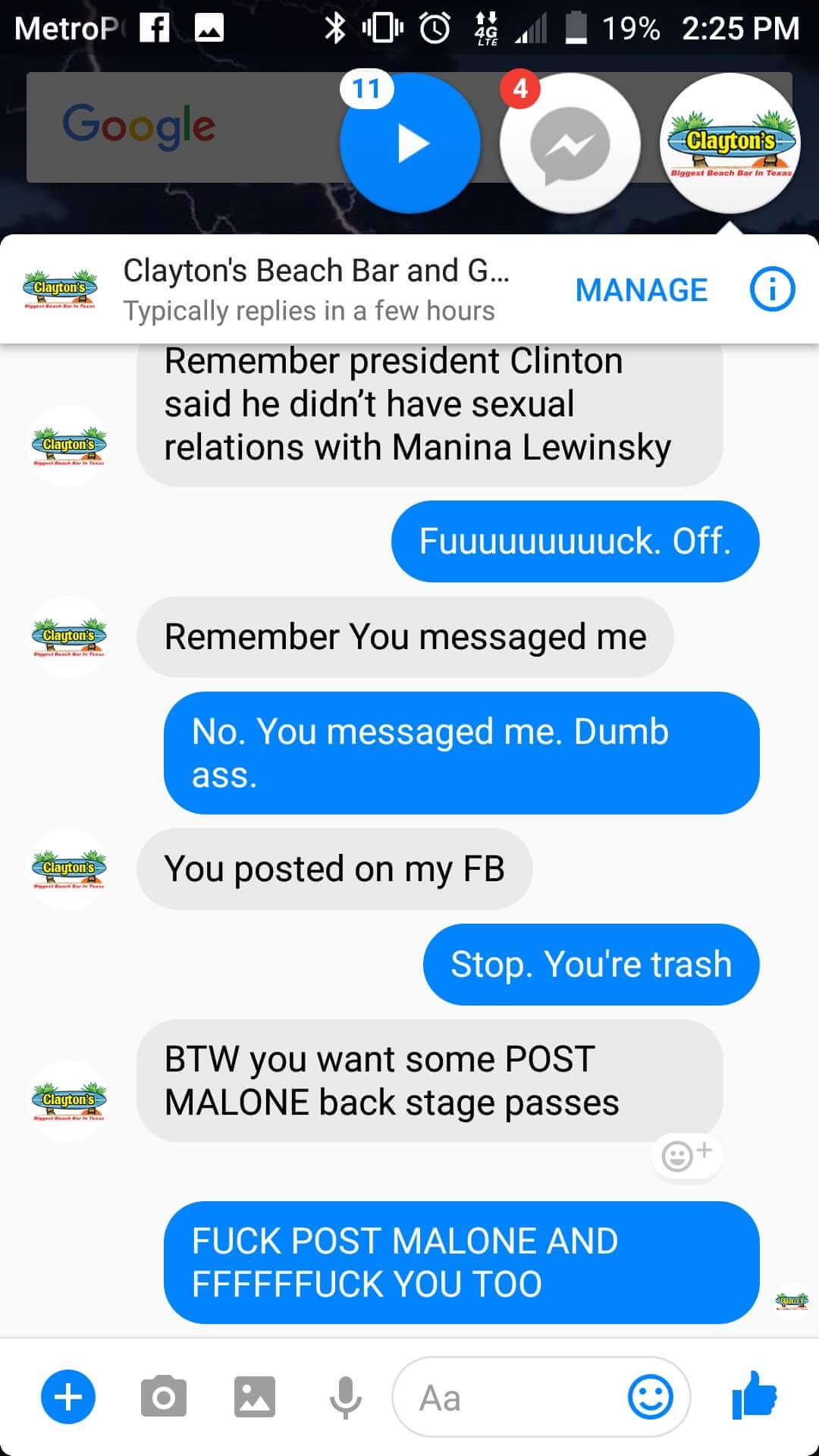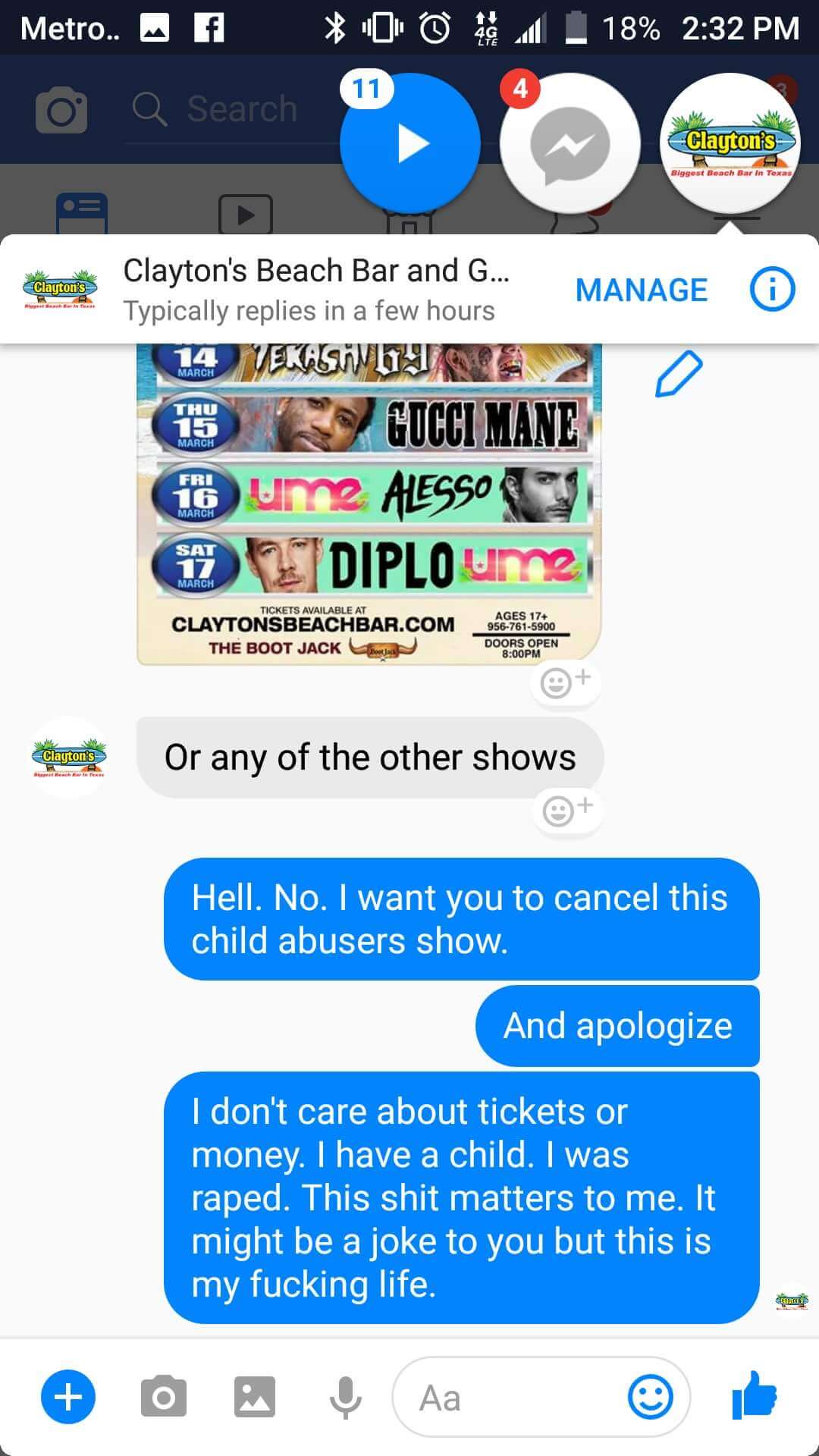 Other than, for some reason, bringing in the Catholic Church and Monica Lewinsky, the admin (Clayton himeself?) kept claiming that "no one was raped" and "no one went to jail."
Wrong on both accounts. Taquan Anderson, the other party in the incident who had oral intercourse and groped the child's breasts and vagina, was, incredibly, only charged with possessing a sexual performance by a child and is currently in custody at the Cape Vincent Correctional Facility.
When asked about the Facebook conversation, Brashear claimed that his account had been "hacked by an upset patron."
I know someone's going to flag Clayton down about this article, so I'll address this last portion to him directly:
Clayton, you're not a shitbag because your alcohol is overpriced and shitty.
Clayton, you're not a shitbag because you blocked off the side of your own building to, essentially, charge people access to the beach.
Clayton, you're not a shitbag because you want to build your pier because fuck everyone else, I guess.
Clayton, you're a shitbag because you're willing to put money in the pocket of an admitted child sex offender and when faced with that truth, you did nothing about it.