Edinburg Mayor Richard "The Dick" Molina has spent all of a few months in office and has already given voters virtually every reason to loathe him entirely. This week's episode? Killing Anonymous RGV's Facebook page because, maybe, his feelings got hurt, I guess.
Before we delve into the bag of shit Le Dick just stepped in, let's break down just how in the hell we got here.
Back on April 26th, KRGV's (in spectacularly rare form) Michael Scott (no, not that one) released an investigative piece entitled "Tilting the Scale" that implicated Mayor Dick Molina with potential voter fraud.
From the article:
A state agency is investigating after learning nearly a dozen people were registered to vote out of a small, one-bedroom home in Edinburg. The Texas Rangers are investigating voter fraud out of the city of Edinburg connected to the November 2017 election, according to a Department of Public Safety spokesperson. In addition, a CHANNEL 5 NEWS investigation found some of those registered voters don't live Edinburg. Voting records show those 11 people claiming to live at the home on Fay Street all voted at the elections annex building in Edinburg in November.
So, clearly some pretty standard voter fraud stuff here. The voter stash house was a front for people recruited to vote in Edinburg's election in November.
Interestingly, these were stills taken of the home in question: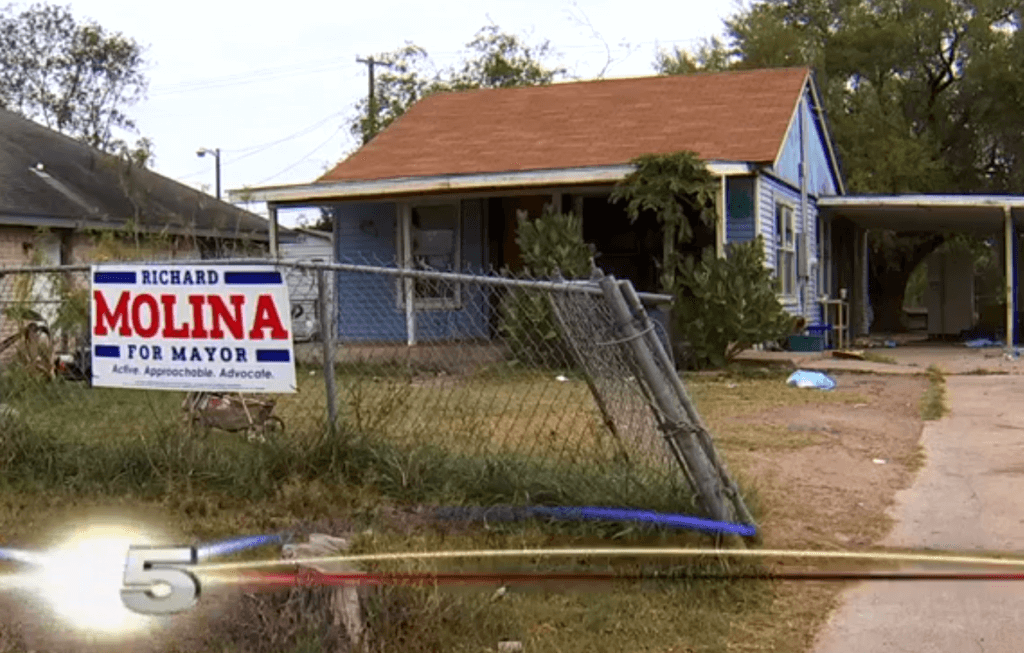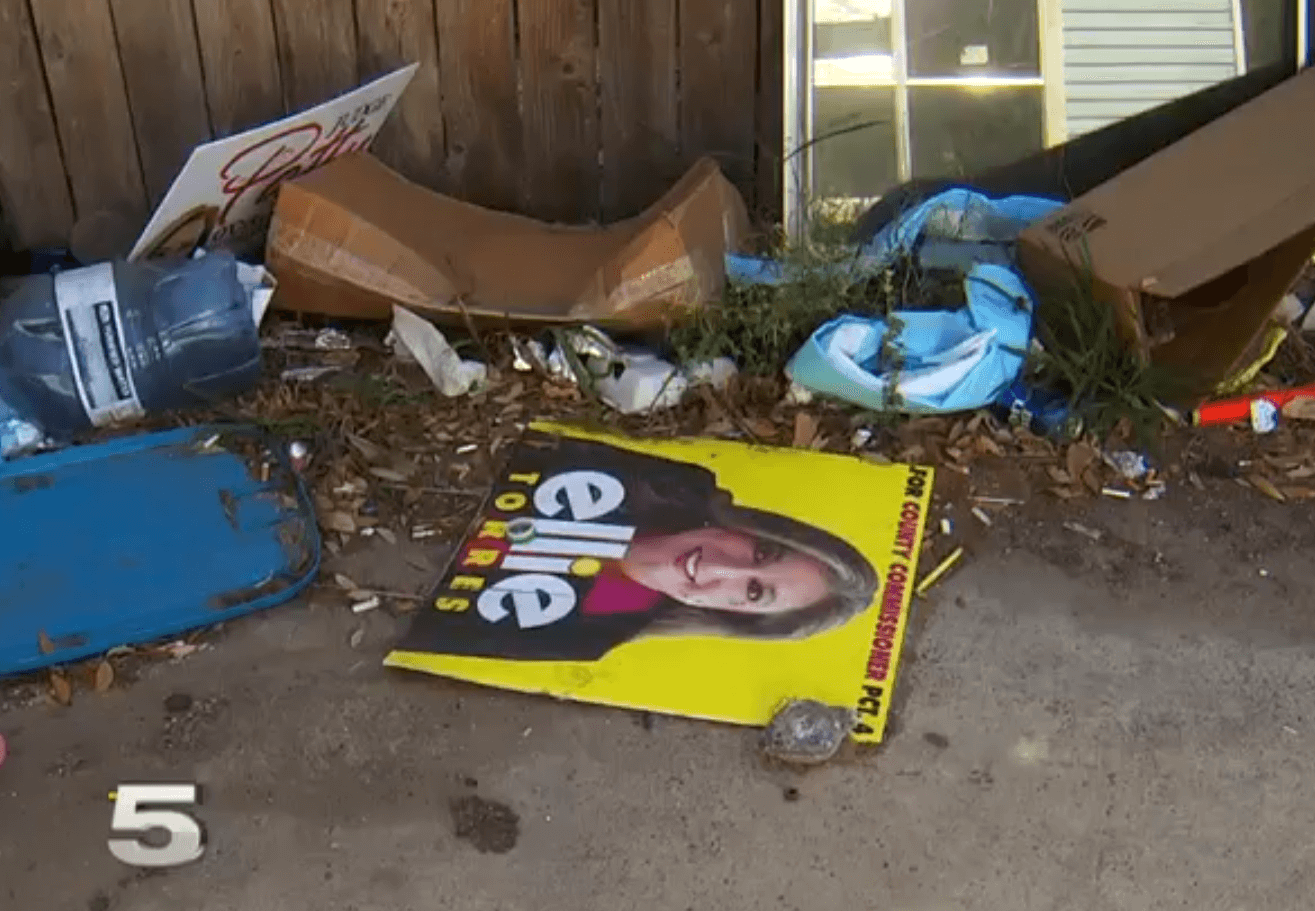 However, the story starts cooking once KRGV digs into certain campaign finance records:
CHANNEL 5 NEWS also learned a campaign worker claimed the Fay Street address on a change of address form on Sept. 26, 2017. Her name and the Fay Street address also appeared on Mayor Richard Molina's campaign finance report. According to records, Molina paid her nearly $4,000 for working on his campaign. Another change of address form from another person registering to vote out of the home on Fay Street had then-mayoral candidate Richard Molina's registrar number and signature on the form. Hidalgo County Precinct 4 Commissioner Joseph Palacios paid $1,000 to the woman claiming to live on Fay Street. The same woman Molina paid to work on his campaign.
Palacios would later admit to KRGV that he canceled his contract with the campaign worker after allegations began to bubble up about potential fraud.
Shortly after KRGV broke the initial story, they followed up with a confession from one of the 11 persons who changed their address to the Fay Street home in order to vote in November's election.
Here's the video of her confession along with KRGV's 2nd part of their report:
Anonymous woman, "I changed it because I had an in-law relative who was running for in a local election for the Edinburg mayor."
Michael Scott, "Did someone tell you to change your address?"
Anonymous woman, "Yeah, Richard Molina."
So, some pretty damning evidence there that was subsequently supplemented by the following text message exchange between Molina and the anonymous.
The first text sent to Molina: "My sister mentioned you wanted me to register under her address."
Molina responded a few days later: "Call me."
"I'm in a meeting, when is the date for your election? March as well?"
Molina responded: "No. Next month."
Molina continues the conversation and instructs her to go to Odyssey at 3224 South Sugar. The address was to his business in Edinburg.
Shortly after the KRGV piece, Molina dug 30 feet beneath the ground and decided to give Advance News Journal, the paper best used to clean windows with, his response to the report. He went on to claim that KRGV's Scott was seen having drinks with Mary Ann Palacios, a fervent supporter of ex-Mayor Richard Garcia and the person Molina mostly blames for this shit-storm. After shitting on both the reporter and Palacios, Molina took to the voters and basically said, if people cheated to vote for him, he isn't liable whatsoever.
In the pettiest of petty moves, Molina and Mayor Pro-Temp (no, not this guy) David Torres paid real money to an actual attorney to file a cease and desist letter to the Facebook page "Anonymous RGV" and "Johnny Casey" citing "false allegations clearly meant to impugn my clients' honesty and integrity and to ruin and destroy, by any means possible … their name and reputation in the local community."
Here's a copy of the cease and desist letter: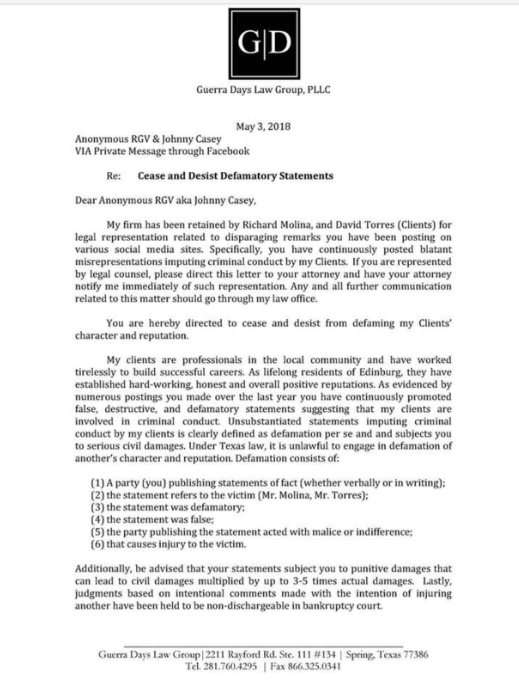 Unfortunately, the move somehow worked as now "Anonymous RGV" and "Johnny Casey" are no longer on Facebook.
If you aren't too familiar with those Facebook pages, they're known to have a hard-on for Edinburg politics and a slightly looser hand on potentially damaging rumors about elected officials.
Here's the takeaway from all of this: Molina is the worst kind of politician who has the money and the connections to get an attorney stupid enough to waste their time writing as such a benign, toothless demand to a God damn Facebook page that generates no money all in the name of "damage control."
Nowhere in his attorney's demand or in his public state to (Jesus) Advance News Journal did he provide any evidence to refute KRGV's reporting and indicate that he would be vindicated by the Texas Rangers' investigation.
I'll wait for my own cease and desist letter, if I matter enough.
Until then, Molina can go fuck himself.