At about 8:45 PM Saturday night, Texas DPS Trooper Moises Sanchez was shot twice shortly after investigating the scene of a crash near Freddy Gonzalez and 10th St. in North McAllen by who the authorities believe to be the suspect, Victor Alejandro Godinez of Edinburg.
Since the incident on Saturday, it was learned that Trooper Sanchez remains in critical condition after undergoing two surgeries. It was also reported that the suspect, Godinez, had been wounded either during the initial incident with Trooper Sanchez or when he was apprehended by Edinburg PD hours later. Godinez was arraigned by Edinburg Judge Terry Palacios on three counts of attempted capital murder of a peace officer, each count that could potentially carry a 20-year sentence, where, in this case, Godinez could be facing 60 years if convicted. Godinez' bond was set at $1 million per count, totaling to $3 million.
With most of this new information trickling in, it's safe to say that the last, now, nearly 72 hours have been quite a whirlwind for most of our local news outlets, especially with a story of this magnitude that was even picked up by Fox News. In the face of an incident like this, we can say that most of our local news outlets reported amiably, but the coverage by KGBT Channel 4 can only be described as a complete and absolute shitshow.
Before we get into how exactly KGBT managed to completely bungle their coverage, KGBT first posted a live video from the scene of the incident, and with it, an obtuse and crass injection of advertisement plastered on their video and post by J. Gonzalez Law Firm, a lawyer who may or may not want to sell you some wings: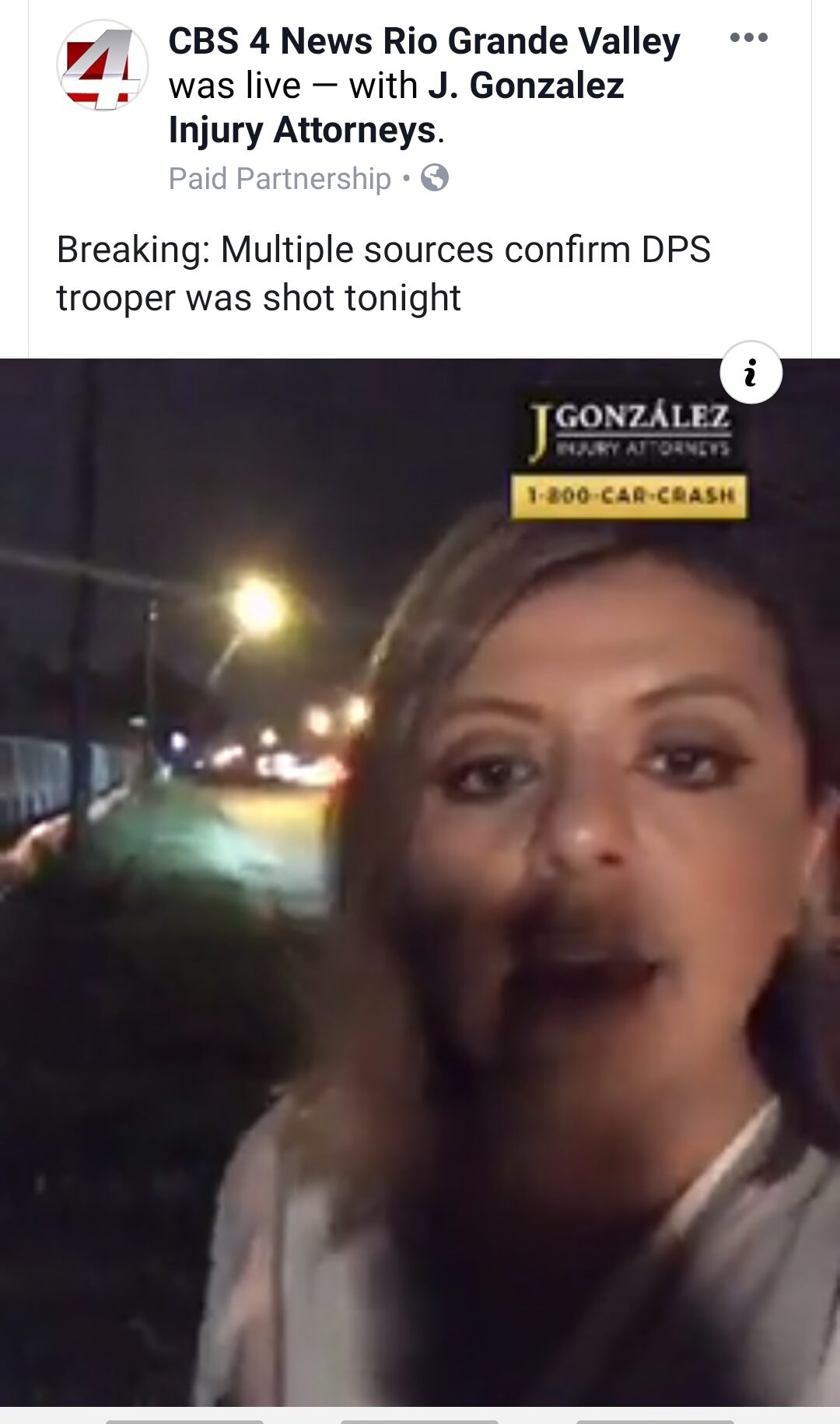 I understand that advertising dollars are needed to run these news outlets but, Jesus, it doesn't take much to demonstrate SOME journalistic integrity and NOT recognize this as some type of cash grab. However, as we'll continue to see, KGBT's questionable decisions in their reporting may lead us to believe that they've all but ran out of journalistic integrity already.
At 9:53 PM, CBS 4 News twitter posted the following, still active, tweet:
BREAKING NEWS UPDATE: DPS trooper shot in Edinburg, authorities actively searching for suspect
>>https://t.co/8Xf8nW43dm#rgv #edinburg #shooting #breakingnews pic.twitter.com/b8iDmyw5wz

— CBS 4 News (@kgbt) April 7, 2019
At 10:29 PM, 36 minutes after that initial tweet, CBS 4 News tweeted the following, now deleted, tweet reporting that Trooper Sanchez had died: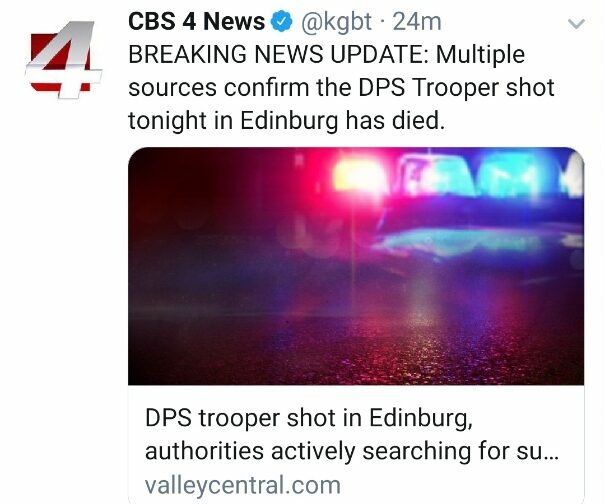 As we have already covered and as most of you already know, Trooper Sanchez did NOT die.
At various other points throughout that night, other prominent Facebook pages such as Justice RGV, Hidalgo County Pct 2, and Hidalgo County Young Republicans had also posted that Trooper Sanchez was dead: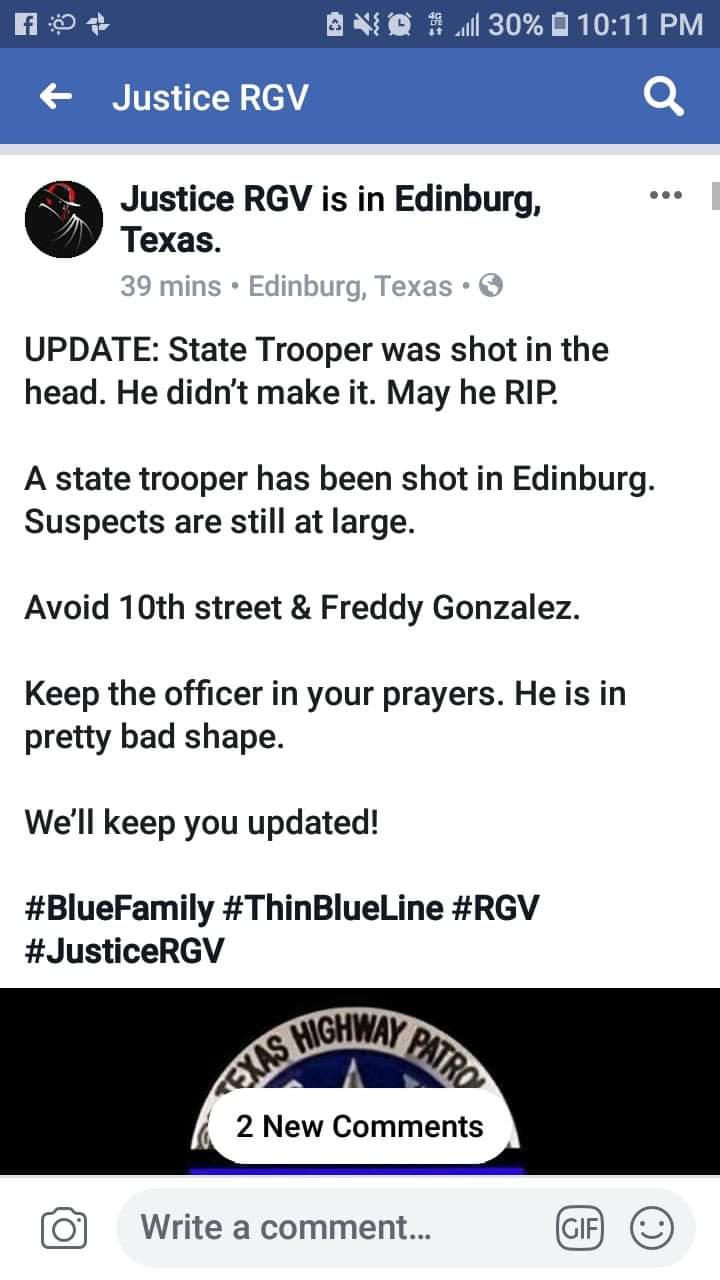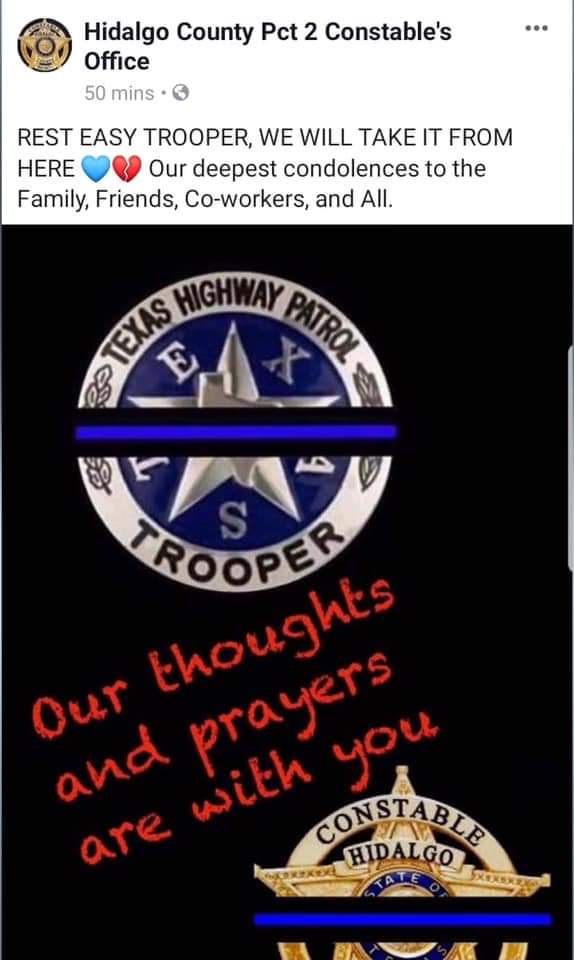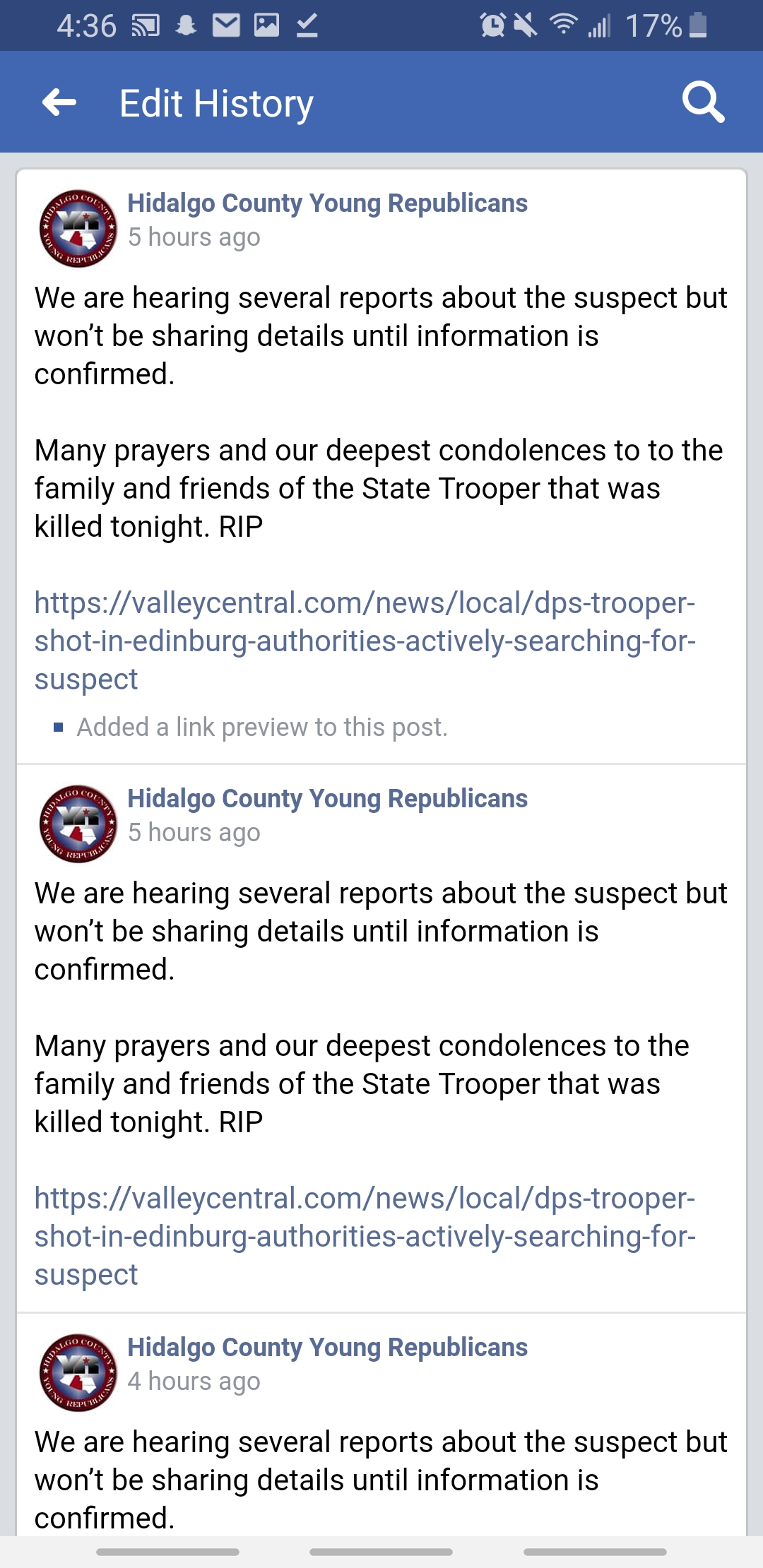 For reference, here's a timeline of the spread of the false news that Trooper Sanchez was dead:
–(Unknown time, likely around 9:00 PM) Hidalgo County Pct 2 posts that Trooper Sanchez had died.
–9:32 PM – Justice RGV posts that Trooper Sanchez had died.
–10:29 PM – KGBT reports that Trooper Sanchez had died.
–11:36 PM – Hidalgo County Young Republicans posts that Trooper Sanchez had died.
According to their tweet, KGBT claims to have had "multiple sources" that confirmed that Trooper Sanchez was dead. So, either this was complete bullshit OR maybe their sources were people who were not intimately close to what was happening and they ran the story anyway.
My theory is that, in all likelihood, what happened was word spread around with the help of Hidalgo County Pct 2's post as well as Justice RGV's posts and KGBT, without confirming the facts at all with the Hidalgo County Sheriff's department or any other agency, ran the report that stated that Trooper Sanchez had succumbed to his injuries. In all likelihood, CBS 4 lied about having multiple sources and just ran with the story to be the first to print and not care about the accuracy of their reporting.
At about or shortly before 11:49 AM, KGBT retracted their story and instead reported that their sources claimed that Trooper Sanchez was "brain dead."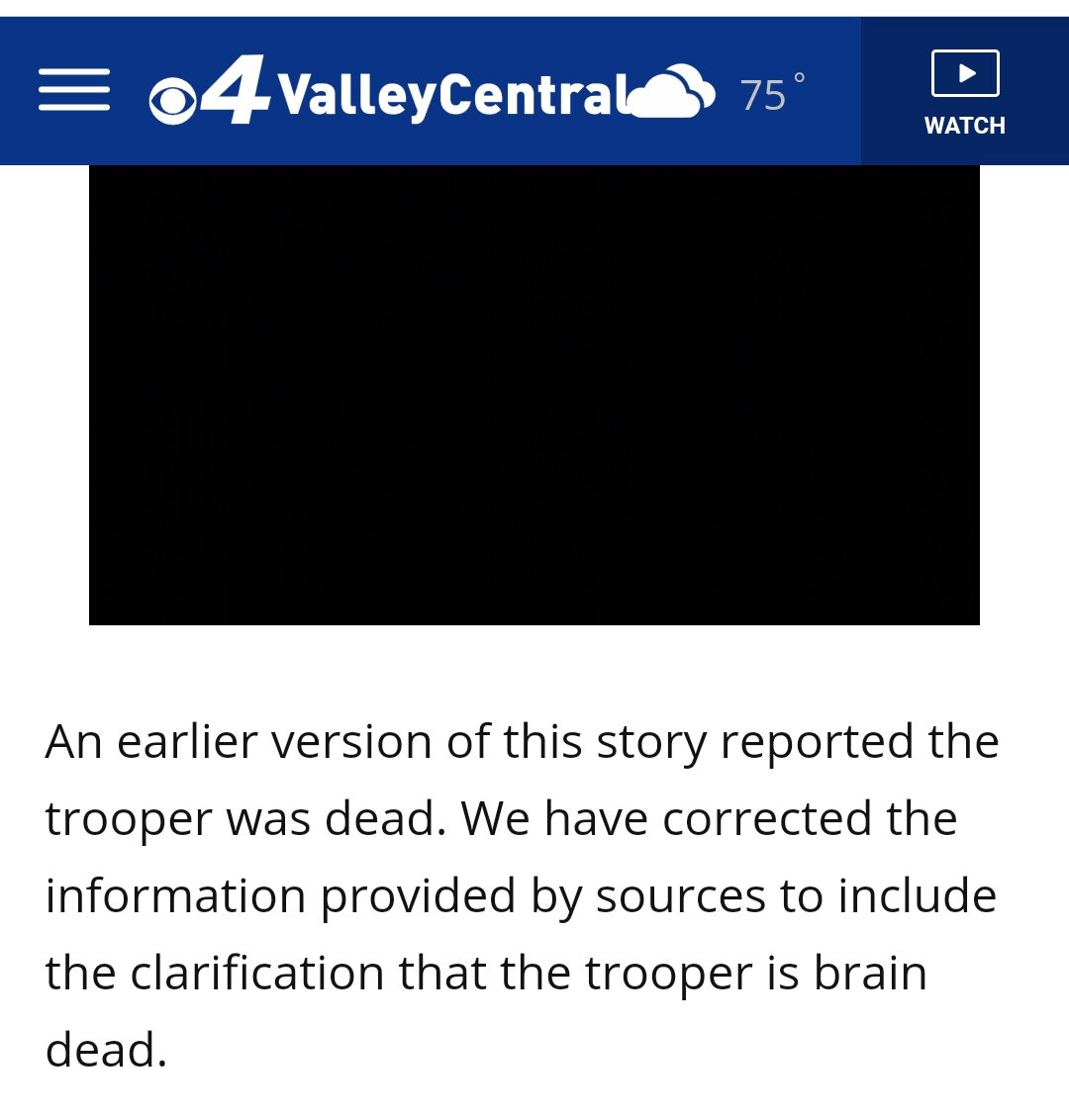 No other news source had this intimate level of information as every other outlet was reporting what was released by officials stating that he was undergoing surgery. This claim was so beyond the pale that even Fox News' report cast doubt into this conclusion: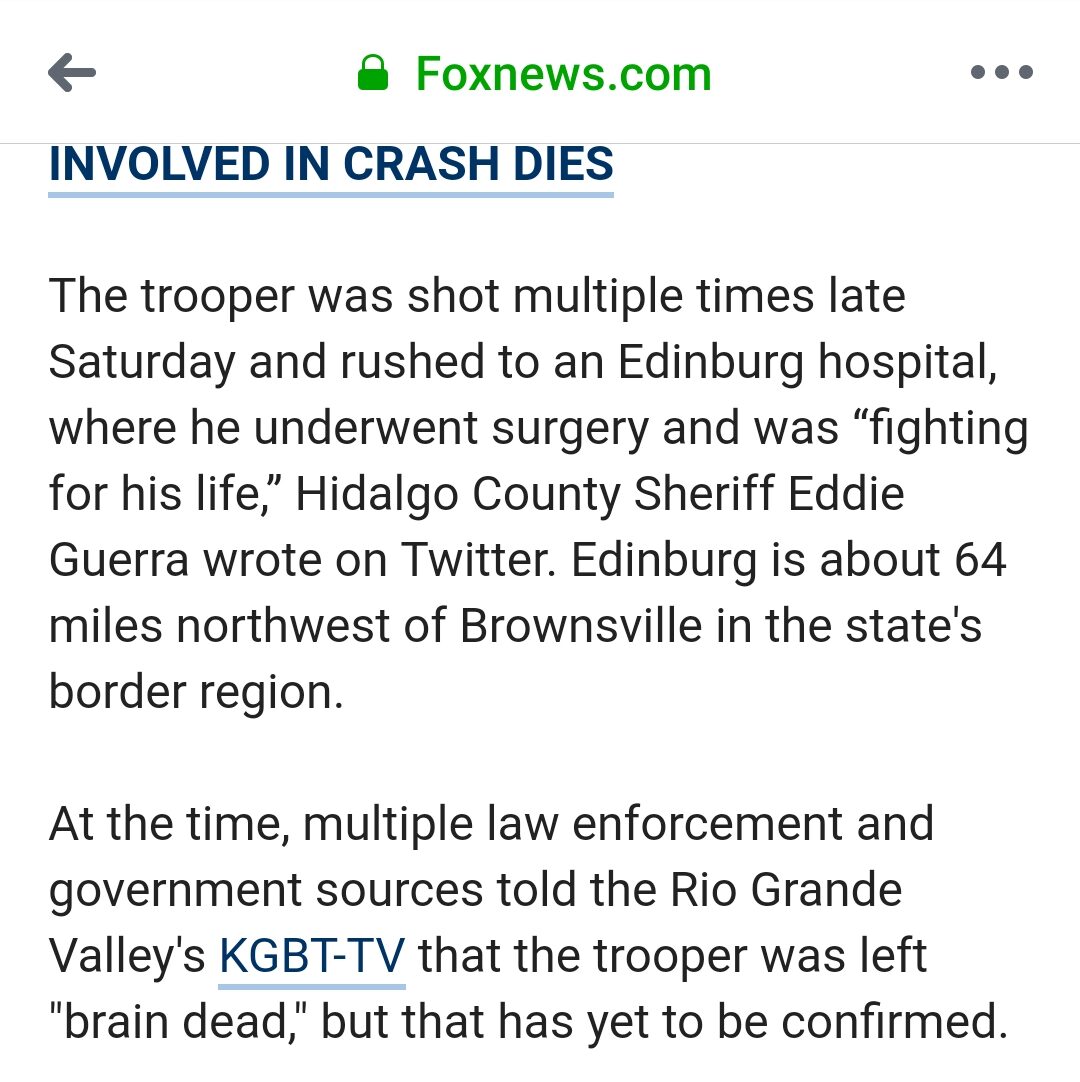 According to an edit history of their Facebook post, at 11:49 AM the next morning, KGBT seemingly silently retracted their "brain dead" statement with absolutely no public acknowledgment of the change: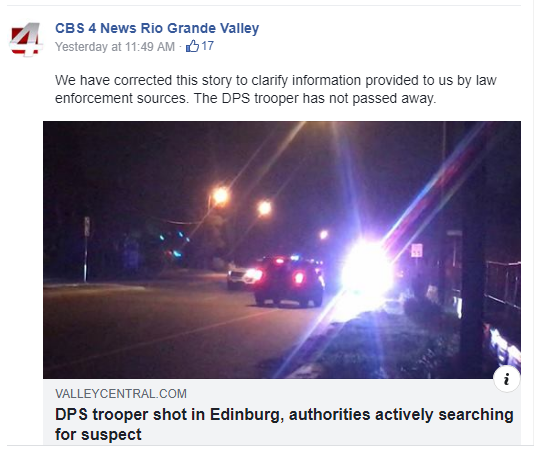 A quick look at the article report on their website shows that it no longer mentions that Trooper Sanchez is "brain dead," meaning that for a good 12+ hours, KGBT reported this misinformation until they finally gave up and quietly retracted their, likely, unfounded claims.
Don't get me wrong; reporting is a difficult, thankless job that requires journalists to spend long hours writing, cultivating sources, cutting video, etc. All we see is the finished product; we never see the manpower and hard work that was put into developing that story.
With that being said, journalists have a duty to get it right, whether they're first or not. They have a duty to be able to parse their journalistic endeavors from their financial interests in reporting factual information to their communities.
Misinformation, even on a local level, can have devestating consequences; just ask KRGV. Unfortunately, KGBT Channel 4 has demonstrated, time and again, a standard of editorial control that is entirely non-existent. From posting articles that are blatant advertisements to participating, albeit under the marching orders of Sinclair Broadcasting, in that creepy 1984-esque video discrediting the media, to now this debacle, KGBT is almost willingly, irreparably damaging the trust of their viewers.
Maybe KGBT should just go back to covering journalists eating eggs off the ground.
If you would like to make a donation to help support Trooper Sanchez' family, you can do so here.