Alex Herbst, a meteorologist for KGBT CBS 4, was found dead Wednesday afternoon at the age of 26.
Since news of his passing has broke, Herbst's cause of death has been the subject of much speculation given that it's jarring to see a relatively young, seemingly healthy person die suddenly without a major accident being tied to his death. Even KGBT's own press release did not provide much information.
However, hints from posts made by Herbst's Facebook friends have given us some insight, including a post that read:
"Praying for your family. I am so sorry to hear that you didn't have anyone to talk to. Short term problems with long term solutions are the toughest to navigate. You mattered."
Matt Rudkin, a fellow meteorologist based in South Bend, Indiana, posted the following on Twitter: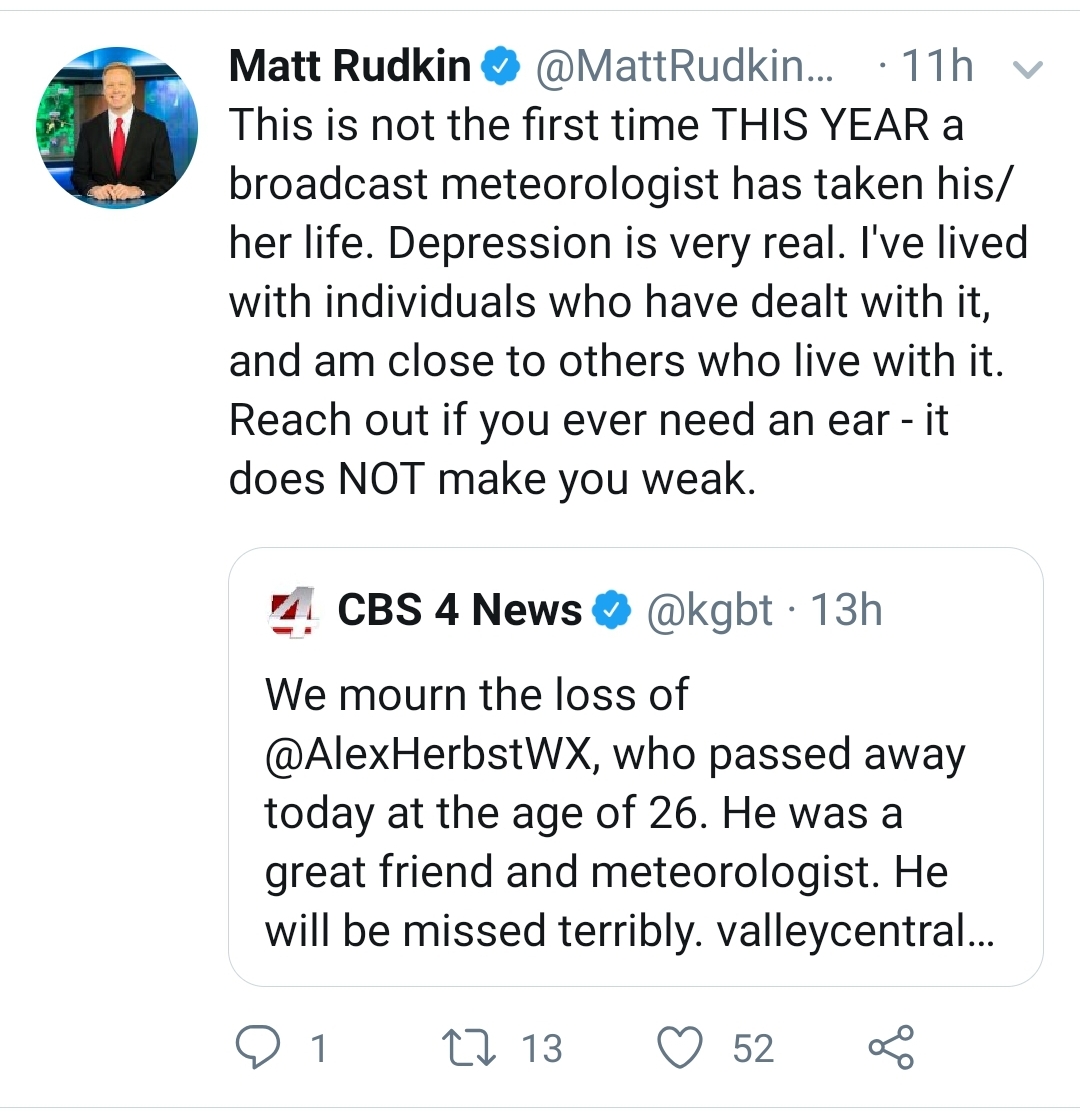 From these excerpts as well as more coming from members within his professional community and those who knew him personally, it's becoming painfully clear that Herbst took his own life yesterday.
I will be the first to admit that I had my reservations posting this story, but out of respect for his family, his friends, and most importantly for Herbst himself, it's important that we understand that depression is a serious illness that can take anyone you love away before you realize it and it's too late.
Right now, there are approximately 17.3 million Americans who are suffering from depression, many of whom have probably never spoken to anyone about it, let alone a medical professional who could help.
If you should take anything away from Herbst's death, it should be to take time to reach out, talk, and be human to the people you care about.
Depression doesn't discriminate and Herbst, even through the smile he delivered while he was on camera, was simply one of those people who needed somebody, anybody to reach out.
National Suicide Hotline (Available 24/7): 1-800-273-8255