Well, we've finally made it to, quite possibly, the most anticipated showdown in political history. Even with states being polled to death, there's still a lot of questions left to be answered. Will Vice President Joe Biden defeat President Trump? Will Trump defy the polls and become re-elected to a 2nd term? Will they make out? WHO KNOWS?!?!
Currently, Nate Silver's team at FiveThirtyEight, the people who were famously trolled in back 2016 for giving the world this gem, give Biden an 89% chance of winning the election, having never trailed Trump in their models since his presumed Democratic nomination in June.
Their model also currently has Biden winning the electoral college vote, 348-190, as well as predicting a 97% chance that Biden wins the popular vote which is also reflected in their "poll of polls" with Biden currently up 8.4 percentage points.
As anyone critically considering this election, you should always take these kinds of numbers with a grain of salt. Just a few days ago, documentary filmmaker, Michael Moore, sounded the same alarm he sounded for Democrats four years ago, claiming that polls are undercounting Trump support in key states such as Michigan.
After studying the polls, considering 2016 and trends, as well as accounting for Trump entirely changing the political landscape (for better or worse), here are our predictions for this year's election.
Texas Will Stay Red, But Not By Much
In 2016, President Trump won the state by nearly 807,179 votes with 59.7% voter turnout.
Two years later, with 53% of eligible voters casting ballots, Senator Ted Cruz won re-election over Representative Beto O'Rourke in Texas by a significantly slimer margin of just under 214,000 votes.
So far, approximately 9.7 million votes have already been casted out of approximately 17 million eligible voters in Texas, totaling to an unbelievable turnout of 57.05% in early voting alone. The Texas Tribune reports that the final vote total after Election Day could be as high as 12 million, which would equate to an astonishing 70.5% voter turnout.
In-depth analysis of voters who casted their ballots early, however, indicate that 54% of these votes are likely Republican vs 36% of votes likely being Democrat (10% unknown). According to the same analysis, Republicans are also more likely to vote on Election Day than Democrats.
In all likelihood, Democrats will take the moral victory by claiming to have inched closer to turning Texas blue, but will still lose the state by a margin of approximately 300,000 or so votes.
Trump Will Win Ohio and Florida
Ohio, once a battleground state ten or so years ago, has become solidly red since 2016.
Every major poll has Trump ahead in Ohio and it's highly unlikely that Democrats will gain any ground tonight. Ohio is literally the heart of the rustbelt with factories and jobs having been lost over the course of Bill Clinton's NAFTA and automation, a key demographic for Trump.
A recent outlook on Florida's recent major elections will tell you that Democrats may be gaining ground among suburban and older voters, however Biden's potential Latino vote remains noticeably weak in the state, a key demographic that will likely decide the state.
Pennsylvania Will Not Be Decided Tonight
This is more of a fact than anything else. Most polls have Pennsylvania slightly leaning Biden, however, because the race could potentially be so close, there's likely no possible way that Pennsylvania will be called tonight by any major news network with millions of early mail-in votes needing to be counted on or after election night.
Either Biden Wins Tonight or Biden or Trump Wins Later
It's almost impossible to imagine a Trump road to the White House WITHOUT Pennsylvania's 20 electoral votes in the bag, which we've already discussed likely WON'T be called tonight. That means that if there IS a winner called tonight, it would be because Biden scored either Ohio or Florida to get passed the 270 electoral mark (which, again, we don't think will happen).
In all likelihood, we will not have a winner called tonight, specifically because of Pennsylvania, and there is also a chance that we won't see a winner called after that if Trump happens to lose since he's already preparing to challenge the election results.
Every Hidalgo County Republican Running Will Lose
Not even the Hidalgo County Republican Chair thinks they have a shot.
The Bench Wire Electoral Map For Tonight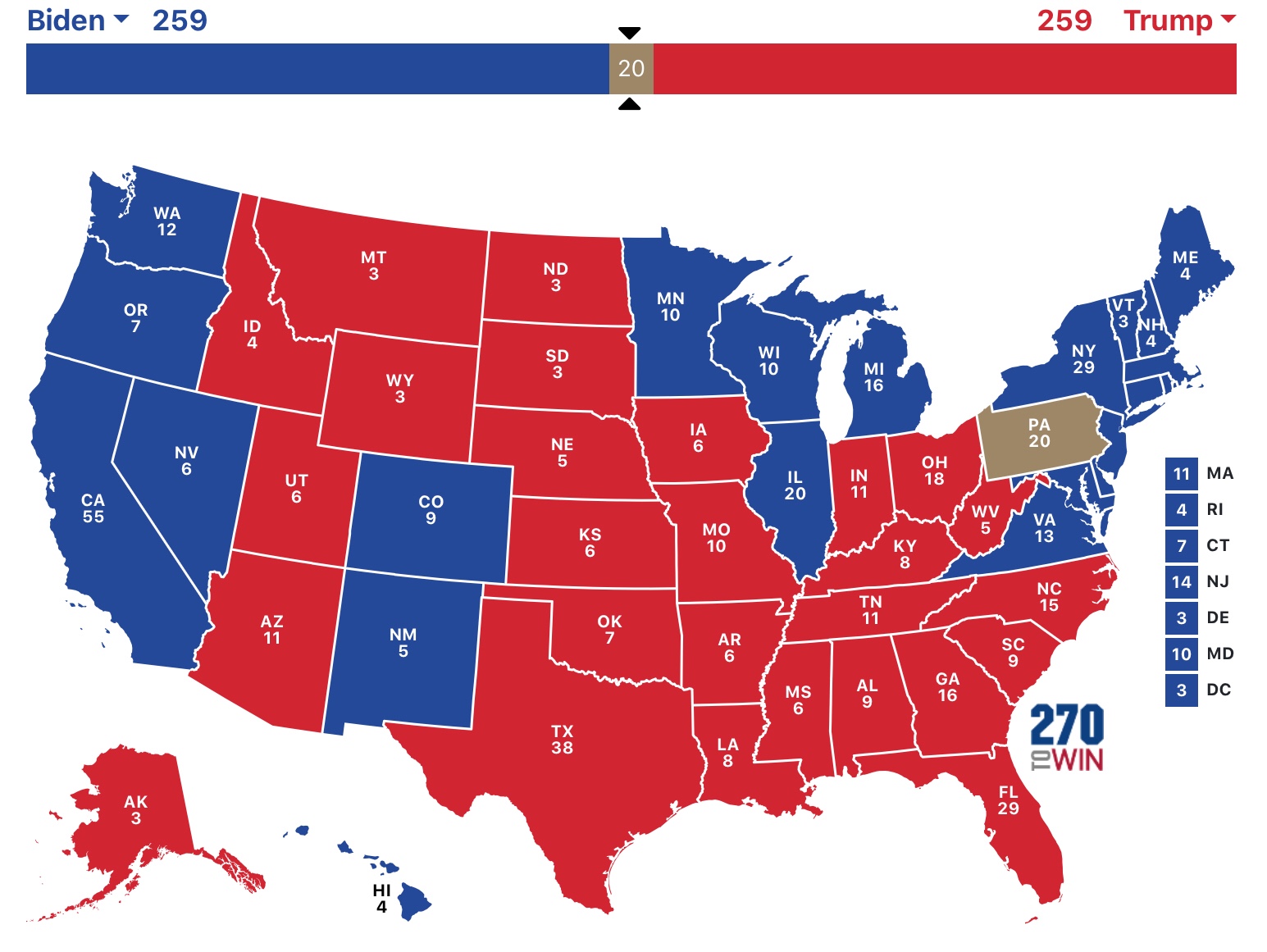 When The Dust Settles, Biden Will Win
Biden simply has too many potential avenues to win, even without Pennsylvania. In order for Trump to win again, he'll need to pull out another river card-style win that includes Pennsylvania and closer races in Arizona, Georgia, and Florida.
But, this is Trump we are talking about and, really, anything is possible tonight.
Buckle up, everybody.