Mission Police Department has suspended Sgt. Manuel Casas in response to a video posted on Facebook Live last week.
The video is a little over 21 minutes long so there's quite a bit that goes on to where it would just make more sense to just list all of it:
Casas looking like a pretty shitty Pitbull impersonator hanging with some goofy looking kid with a bad haircut.
Casas' bad haircut friend throwing up pistol hand gestures (0:08 as well as throughout the video)
Casas' bad haircut friend pulling out a baggie of what is probably weed (2:09)
A really shitty rap-along where Casas' bad haircut friend raps "Liquid codeine make my balls feelin' loose…Drugs I abuse." (2:24)
Something called "Shopping at the Mall" that would make Soulja Boy jizz his pants
 Casas' bad haircut friend referring to his followers as his "niggas" and Casas drunkenly warning "You're going live, guey, wha-wha-what the fuck are you doing man?" (2:37)
 Casas' bad haircut friend admiring himself on camera, claiming to have "good genes, huh." (3:44)
Casas' bad haircut friend looking real creepy (3:25)

 Casas making some type of mating call (3:43)
This: (4:23)

Casas shown with an open container of Michelob Ultra to which he subsequently chugs down (4:43)
 Casas' bad haircut friend stating "Kim (?) and a cop..they'll fucking take you straight to county, right?"  Casas, drunkenly "Umm…I don't know….no…you saying we're live?" (6:30)
Casas takes the camera and starts..umm..posing? (8:10)
Casas begins to have some sense and grows concerned about his bad haircut friend throwing up "gang signs" and says "No..no no gang signs.." to which the friend nonsensically responds "That's not a gang sign. That's a 'W' and an 'I.' Nintendo Wii. Wii up!" (9:20)
Casas finally addresses the video after asking if they're still live again and says that he has to take care of his friend (10:30)
Casas' bad haircut friend leaves to take a leak outside to which Casas gets off to record him pissing from afar. (11:00)
Casas' bad haircut friend says "There's a cop there but..uhh do you wanna go?" to which Casas slurs out "I'm a cop…hello!" (12:09)
 And now we got Soulja Boy (15:55)
It's revealed that they are parked at or near Casas' bad haircut friend's home (17:40)
Casas' bad haircut friend, "Fuck The Police!" 19:20
Mission PD has placed Sgt. Casas on paid leave pending an investigation and has released a statement, shown below: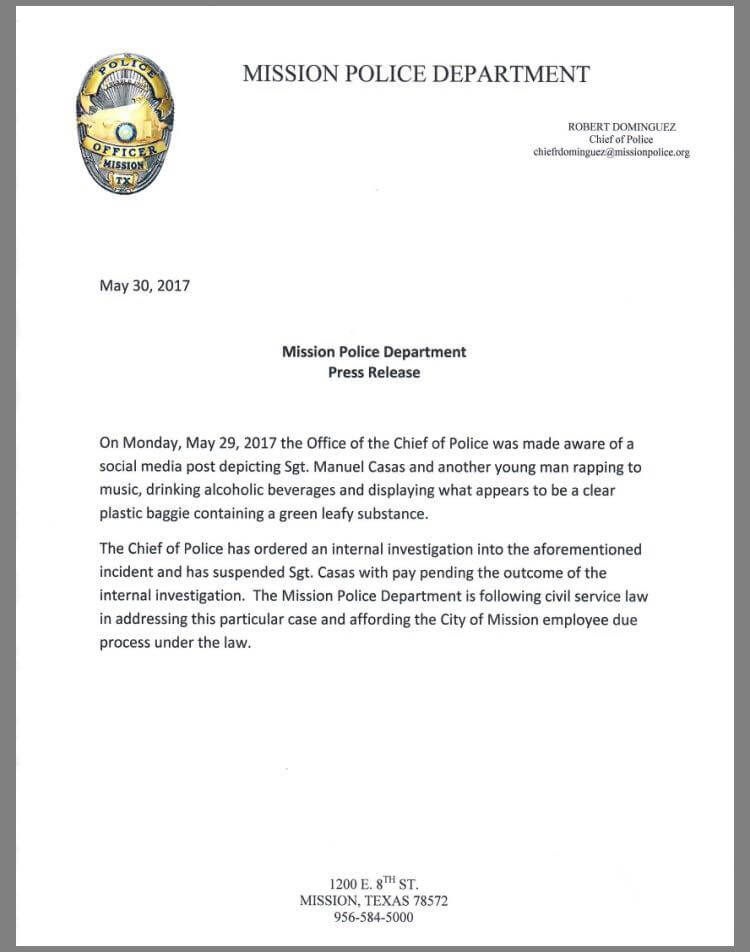 In addition to being an officer, Sgt. Casas is also a Christian minister, being a part of a group called the "Thin Blue Line Men of Valor Ministry," Casas has 115 subscribers to his YouTube account and has several videos of his ministry as well as one video of Mission PD training.
The lesson here?
Never Drink and Facebook.