Taking a break from the quantum continuum of Schrodinger's box, the City of Brownsville unveiled their newest downtown mural which looks like…well…
Earlier this month, the City of Brownsville commissioned three different artists to paint three murals around Brownsville in an effort to "recover spaces for artistic expression," and "promote cultural awareness." The bid for the first mural to be painted on the Capitol Theater building on Levee Street was awarded to Los Angeles-based artist Teddy Kelly.
Some of the strongest criticism about the mural is that there's actually nothing in it that depicts Brownsville at all. If you removed the "BTX," it would simply just look like a wallpaper of random shapes with no ties to anything. If the subject is "Brownsville" then an observer should be able to pick out a portion of the piece and understand why it belongs and why it represents the subject. That clearly isn't the case here.
And after one glance of Teddy Kelly's portfolio, "a wallpaper of random shapes" (also known as geometric art), is kind of his thing: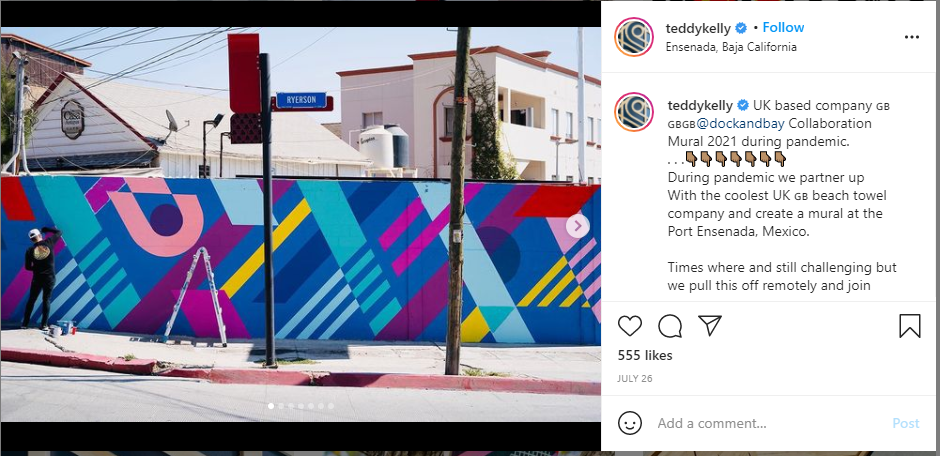 The problem with primarily working in this style is that it tends to get derivative and uninspiring.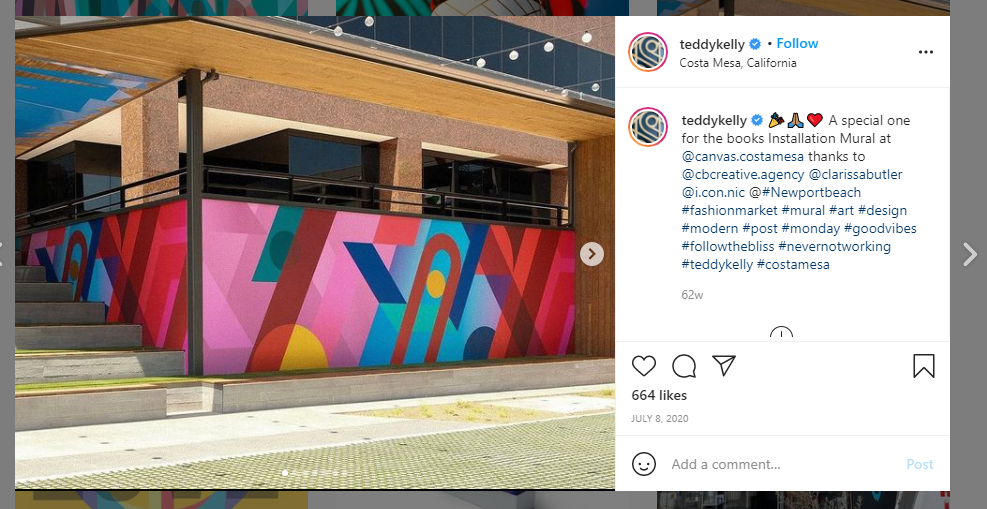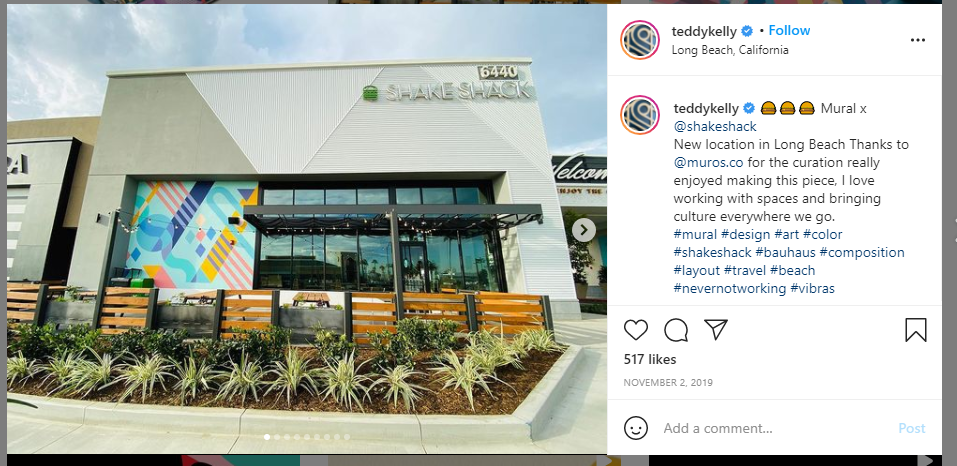 Comparing his portfolio to the Brownsville mural, it almost just looks like Kelly just randomized a mix of his previous work, painted "BTX" on it, and called it a day. From the green parallelogram with a negative spaced circle cut out to the blue parallelogram overlapping the T in "BTX" to yet another parallelogram that's juxtaposed to the 2nd parallelogram, there's absolutely nothing about this sequence that a reasonable observer can say that illustrates Brownsville at all, which leads into the second major criticism of this mural: The city commissioned an artist who not only isn't from Brownsville but isn't even from the state.
It's beyond me why the city couldn't find a local artist to commission for this project. According to the city's press release, funds for these projects were directly taken from the Elon Musk $1 million donation his foundation made to the city earlier this year. That means that whatever money was paid for the first mural, $0.00 of Elon's donation money will make its way back to the city's economy. At the very least, if a local artist HAD painted the exact same mural, the city could at least defended it by saying that they're promoting local artists.
In the mix of some who approve of the art, there's nobody campaigning harder for Zach Morris' fever dream mural than Brownsville Mayor Trey Mendez:
View this post on Instagram
A closer look into this post, you can actually find Mendez fighting for his life in the, now locked, comment section, which includes posts made by Mendez claiming donations to the City of Brownsville isn't considered "taxpayer money," claiming that the point of the mural wasn't to represent Brownsville at all, and alluding to getting a raise in his non-paying job for the mural: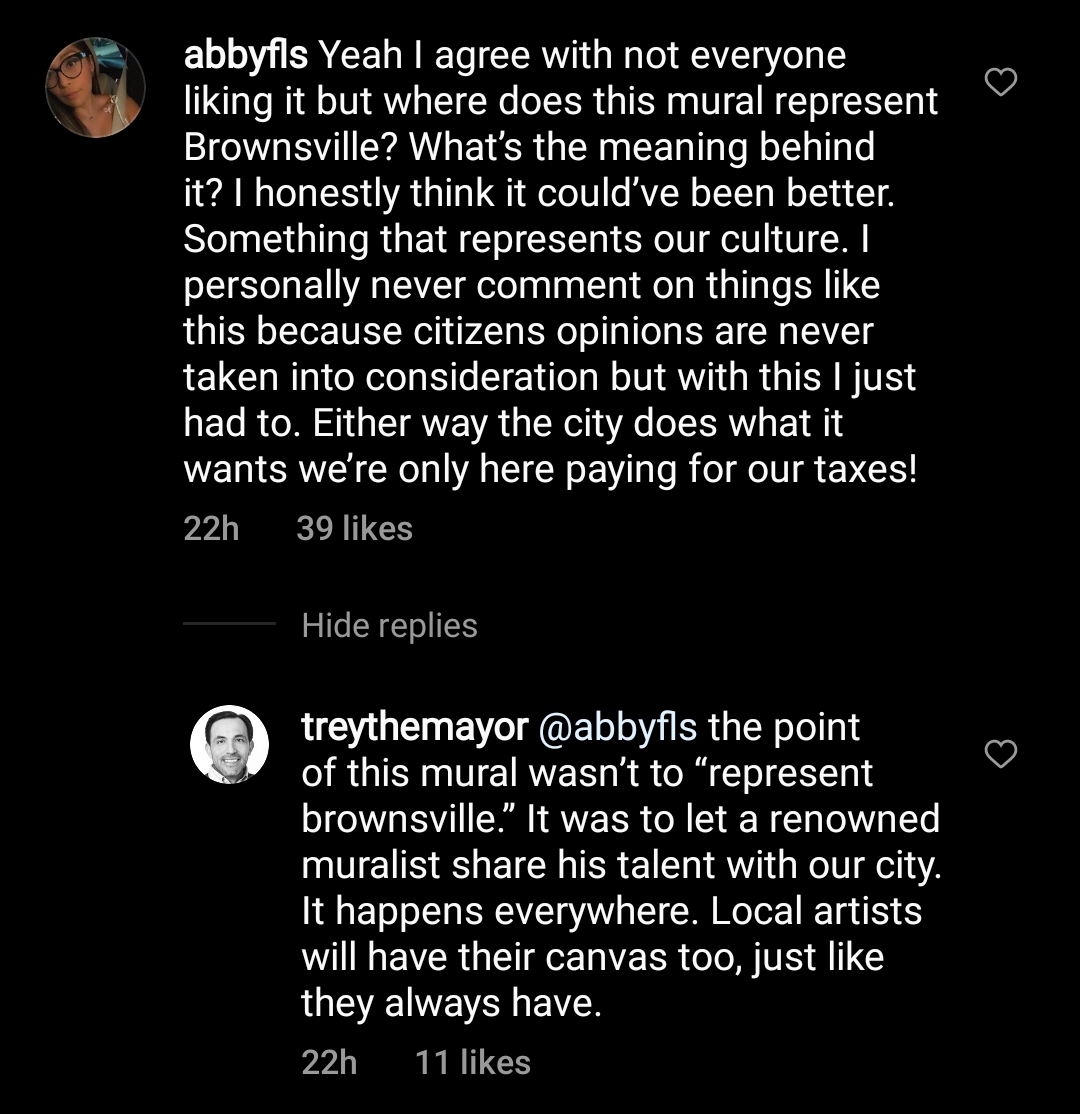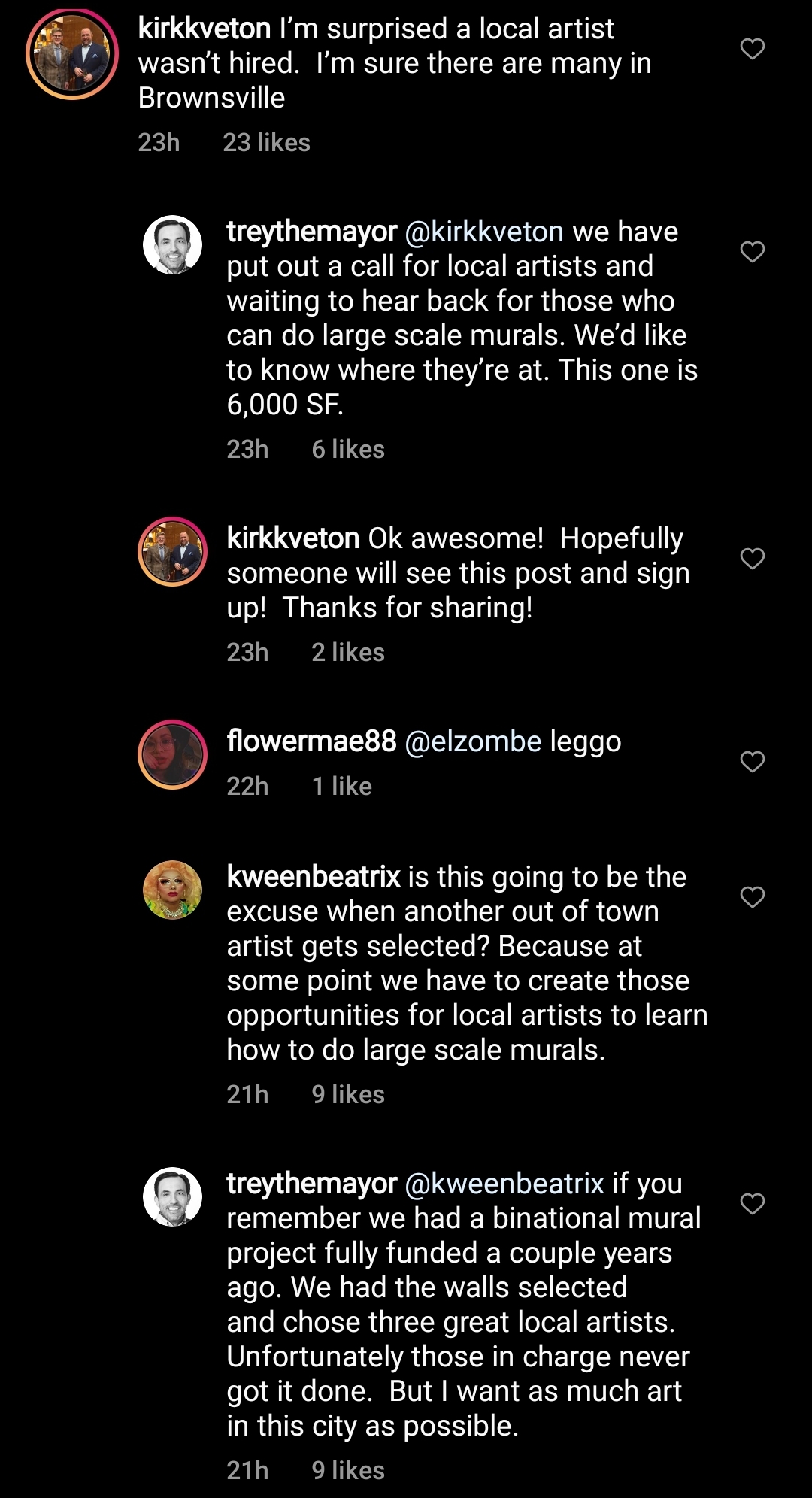 L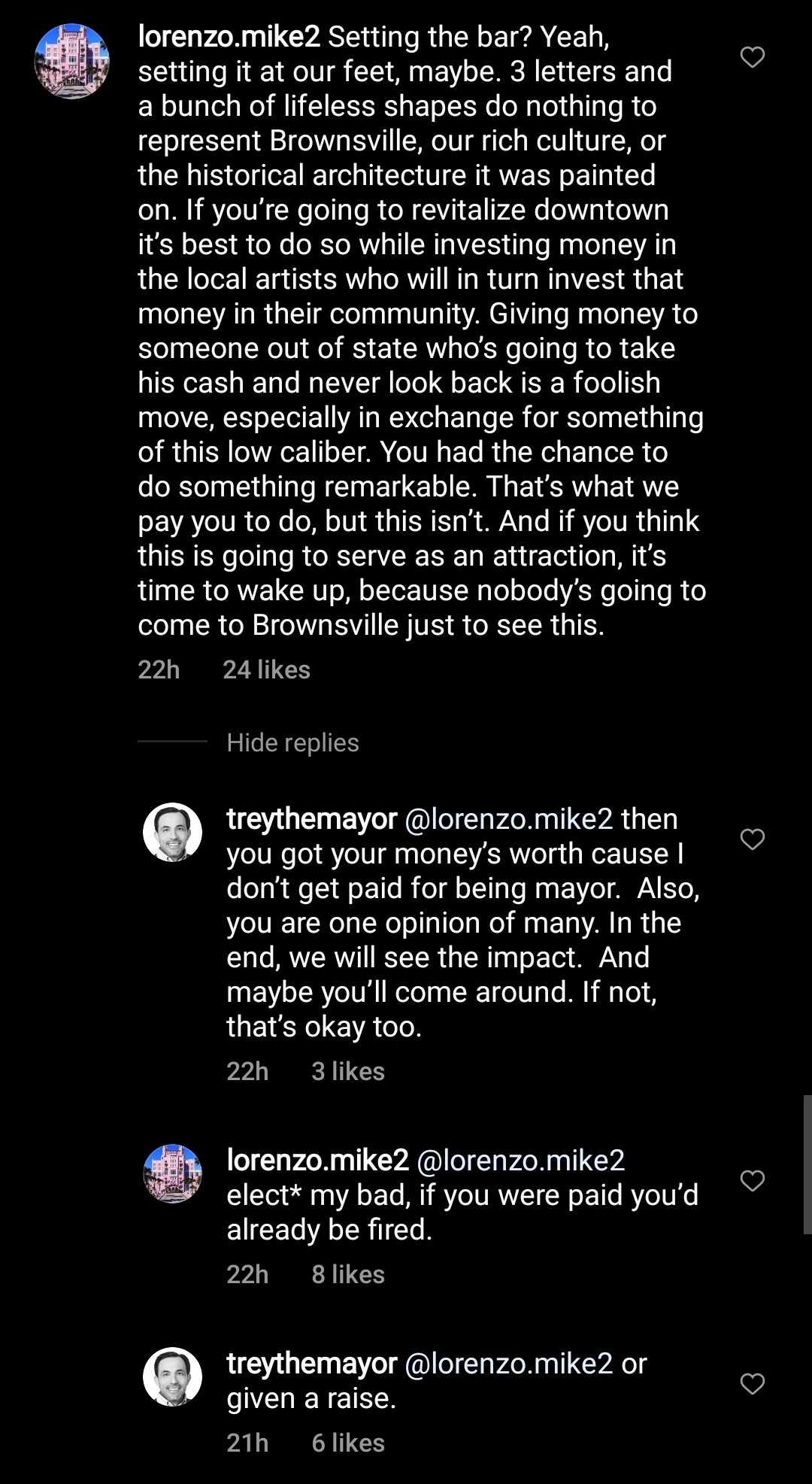 Like a scolded passive-aggressive teenager, Mendez went on to post a story on his Instagram with a user's positive response to his mural photo along with the song Nobody's Favourite by Mobley.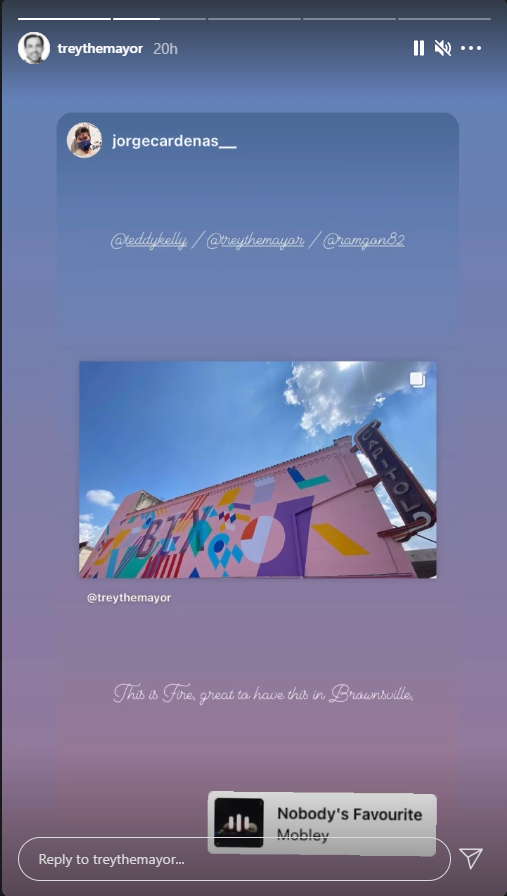 I get it, nobody likes getting mixed reviews on work they were so excited to show and, I mean, what else is Mendez supposed to do? Come out and SAY it looks like shit? There are a lot of roles you have to play when you're the mayor of a city and today, he's playing the role of a proud dad putting up his kid's God-awful drawing on the fridge.
The second mural is set to be sketched by Mexican artist Sophia Castellanos on October 10, however, the City of Brownsville is still looking for a third artist for their third mural. If you're interested and think you can do better than Brownsville's new ode to ABC's TGIF, then email [email protected].