The Valley is one of a kind when it comes to diversity. From the racist white people, the country-wannabes, the ghetto Hispanics, the snobby Mexicans from Monterrey and the token black person in between. With all that diversity and culture mixing all over, visiting the Valley might be a little overwhelming. Not to worry, tourist: The Bench Wire is here to help.
Our tour makes a quick stop, cause you know, we gotta take a piss somewhere! Might as well be in La Feria.

Population: 7,268 (2013)
Mayor: Victor Gonzalez, Jr.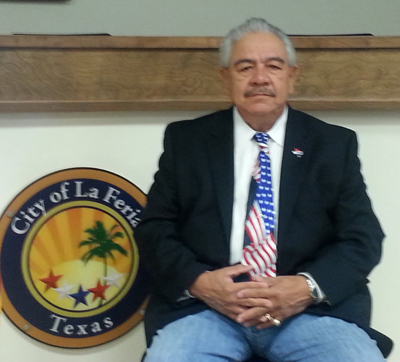 Other than his tie, I don't got much on Mayor Gonzalez. On my first impression, he looks like everyone's tio from every quinceañera I've ever been to mashed into one person. He's a guy you can legitimately hire to help fill up your wedding or funeral and tell everyone he's your tio from your mom's side and EVERYONE would believe you. The citizens of La Feria were all probably drunk one night, saw Gonzalez at said wedding or funeral, pointed at him and said, "Yeah..that guy. You're gonna be our mayor!" Gonzalez, I'm assuming, sipped at his 24 of Budweiser and said "Pos….ta bueno. What do I need to do?" And the people replied, "Mayor, all you need to do is wear this hideous tie."
Pretty sure that's how it all went down.
Why La Feria sucks:
Some people wanted me to write about all the bad politics in this shit hole of city, but come on now! That's a given in the Valley. If your city isn't teeming with crooked politicians, then you're probably not from the Valley. We're going to be honest and tell you straight forward that we're going to put in as much effort writing this article as La Feria does at trying to be a municipality…which is not much.
It's ironic that La Feria is named after the fiestas and parties they — — USED to have back in the 1700s, but today, the only "Fair" that actually might make some people pay attention to their existence is one that's in AN ENTIRELY DIFFERENT CITY! Like most other cities in the Valley, the party's been long over for you, La Feria.
La Feria, you are what's left over after you buy a Stripes taco for $1.07 and pay with $2.00. Nothing special… just chump change, just…feria. I had a couple of girlfriends who lived there that honestly believed they were "country" because they listened to Rascal Flatts and wore plaid shirts and boots. In reality, they're all your same garden-variety Valley hoe covered in Luke Bryan wallpaper who I wouldn't pay good money to keep around…just feria. No wonder I know so many bitter women from there; they're the nickels and dimes of the Valley.
Why does this city even exist? La Feria can't even qualify for a glitch in the Matrix like Alamo and San Benito, since the glitch fee is $1.00 and La Feria only has feria. Seriously, how do people from La Feria live? You have to drive to Harlingen or to Mercedes or even Weslaco just to get groceries. I never understood that town or the people that live in it. Someone should pay me every time I pass by there. I've never been to La Feria for anything and if God truly loves me, I never will.

Why La Feria might not suck:
Well they do have Jaguars… wait, is it even in La Feria? Even if it isn't, its close enough so I'll give you this one.